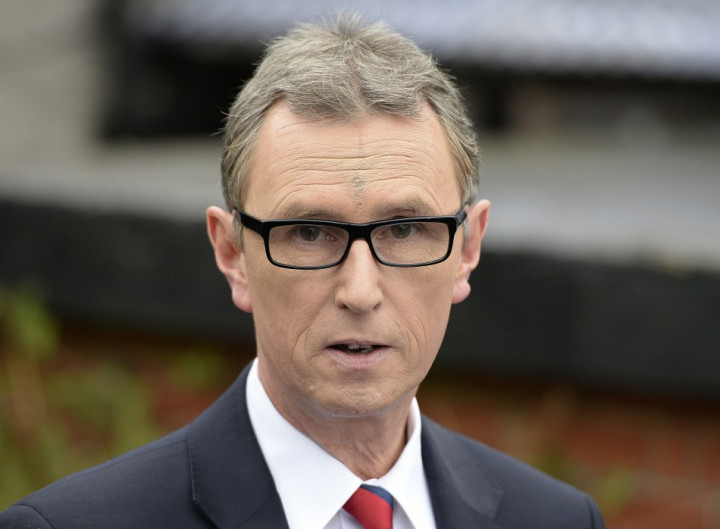 The mystery scar on deputy speaker Nigel Evan's head was not caused by a reiki massage as the embattled Tory MP has claimed, according to the alternative therapist who treated him.
Evans was sporting a vertical dark scar in the middle of his forehead when he appeared publicly to declare his shock at the claims that he raped one man and sexually abused another.
The mark appeared after he visited a massage parlour in Soho, central London, he said. He attended Professional Massage to get treatment for a tension headache.
Evans said: "Right at the very end [of the massage] his nails must have dug in there. Hence the thing. It's just bruised skin, I guess."
Staff at the parlour denied responsibility and said they could not remember treating the Conservative MP for Ribble Valley.
Manager Ma Xin told The Times: "If I did leave a mark it would have been a small red mark. It would not have been a big, bloody mark."
Evans has been fighting sexual abuse claims in what he called the "worst two days of my life".
Evans, who is openly gay, also spoke of his pain at speculation linking his the facial scar to his sexuality.
"You think, if I was heterosexual would they be inferring some of these things? It hurts," he said.
He was interviewed in 2009 by the then chief whip over a separate sex assault claim.
Evans was excused his duties in the Queen's Speech in parliament but he has insisted he will not step down from his deputy speaker role.
Ex-chief whip Andrew MitchelI said: "If he were to resign now, we would be in a terrible position where every public office holder would be open to blackmail and false stories in the media - triggering their resignation."