Former Ukip leader Nigel Farage caused a ruckus on ITV's Loose Women today (31 January) after becoming embroiled in a row with panellist Saira Khan.
Farage, 58, shocked the viewing public after a discussion about Donald Trump's Muslim ban became heated during the daytime television appearance.
The politician defended the US president's policy to stop people from seven Muslim-majority countries from entering the USA, and claims something similar should happen in the UK.
Khan – a previous contender on The Apprentice – was more than offended by Farage's comments, and referred to the Quebec mosque shooting suspect Alexandre Bissonnette during the talk. The alleged Trump-supporter murdered six people in Canada.
Khan said: "There may be people listening to you today with right-wing views, thinking 'He's right', and then I might get attacked. I have a child who comes home from school and asks, 'Why don't people like Muslims in this country?' How would you feel if someone went and attacked Muslims in your name?"
The conversation intensified as Farage replied: "I have never said anything about the religion of Islam. I have Muslim friends in this country who feel they're being looked at in different way, because they're scared – but they're not getting that from us. That's why if we have these stringent vetting procedures, the better harmony is going to be.
"We need to vet anyone who comes into this country, to make sure they don't have a criminal record, can speak the language, and bring skills."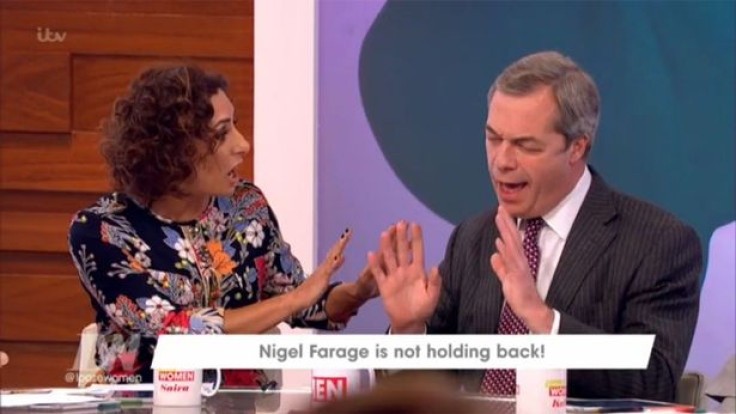 Viewers were quick to take to Twitter on the dispute as it sparked a mixed reaction.
One person tweeted: "Another attack on Nigel Farage. Saira Khan is a very rude presenter. And no, it's NOT controversial to protect our country. It's our right!".
Another said: "Nigel Farage... good job on ITV #LooseWomen today despite #SairaKhan ranting & raving at him. Typical angry, 'victimised' Muslim woman."
Many claimed that Khan wouldn't let Farage get a word in, with one person writing: "He talks such sense but Saira Khan ruined the interview with her prattling monotone. Listen more."
Another said: "that interview with Nigel Farage was a disgrace that Saira Khan never lets anybody speak".
"@NigelFarage is such an eloquent speaker 10/10. Shame #sairakhan launched a personal crusade so we couldn't hear much of Nigel!" someone else added.
However, not everyone leapt to the defence of former Ukip leader who, in January, was hired by US news channel Fox News as a commentator, where he will provide political analysis for both the main channel and its sister channel Fox Business Network.
Loose Women airs weekdays at 12.30pm on ITV.