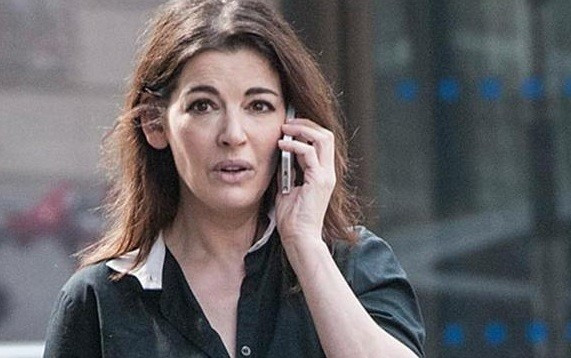 Nigella Lawson has threatened to sue a PR representative who has claimed that tabloid photographs of her husband Charles Saatchi grabbing her by the throat were staged as part of a bizarre publicity stunt.
Richard Hillgrove has refused to apologise for the remarks, or remove the blog post in which they were made, following threats of legal action by the TV chef's lawyers Schillings.
He said he had yet to receive notice of any legal action, adding defiantly: "I'm definitely not going to take it down."
Schillings is demanding Hillgrove remove the post, which - it said - included statements that she "wilfully misled the public, acquaintances and others by knowingly orchestrating an 'assault' as a cynical PR exercise.".
The blog claimed Lawson was "feigning distress" at the assault, said Schillings, who added that Hillgrove's claim was "entirely untrue and grossly defamatory".
Schillings also demanded Hillgrove remove a Twitter post promoting his blog, and post in its place an "immediate publication of an apology" on the same Twitter account.
"Failure to act swiftly will only aggravate the damage," the firm said.
Lawson, 53, daughter of former chancellor Nigel Lawson, is divorcing art collector Charles, 70, after he was photographed clutching her throat and twisting her nose at Scott's restaurant in Mayfair, central London, in June.
Hillgrove, whose PR company Hillgrove PR has represented Dragon's Den stars Duncan Bannatyne and James Caan, said: "I have obviously touched a nerve. It's not a crime to have a difference of opinion."
He said he was prepared to go to court, and had no intention of removing the post. "I assume I'm going to be facing libel action, but I think it's grossly unfair the way he [Saatchi] has been treated," he said.
He said the incident had attracted widespread media comment, and he was entitled to publish his own opinions.
"Most media commentators have had lots to say and have not been asked to take it down," said Hillgrove. "This is a gross over-reaction. Why should I be crushed and threatened?"
He had already received two letters from Lawson's lawyers, he said. He had not spoken to Saatchi about the incident at the restaurant, he added.
Saatchi has said he was disappointed that his wife had said nothing in his defence since the incident at Scott's. Lawson has issued no statement.
She is reported to be bringing her hit US cookery show The Taste to the UK for a series to be broadcast on Channel 4, and was seen with James Bond actor Pierce Brosnan at an Italian restaurant in Soho, Central London.
A decree nisi is expected to be pronounced next week, ending Lawson's marriage to Saatchi.
Saatchi has insisted Lawson will get none of his £120m fortune and he has told his wife he owes her nothing financially.
Lawson is expected to be represented by her cousin, the celebrity lawyer Fiona Shackleton, in a divorce that it is feared could get "very nasty".
Lawson has told friends that the 10-year marriage was over as long as two years ago.