Niger: Death toll in pro-Islam protests against Charlie Hebdo cartoons mounts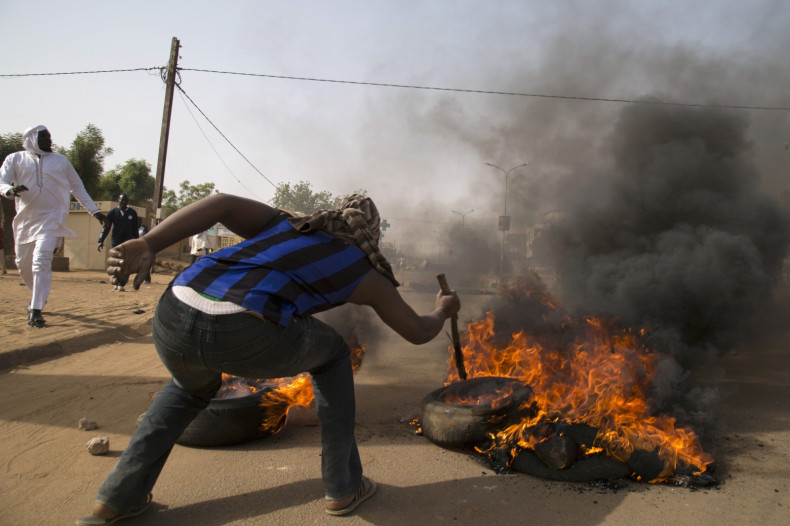 At least 10 people are feared killed in Niger after scores of pro-Islam protesters took to the streets against the cartoons published by the French satirical weekly Charlie Hebdo.
On the second day of the protests on Saturday, five people were killed. The victims were either inside churches or bars which were set ablaze by an angry mob.
The previous day, five people were killed in the city of Zinder after Friday prayers.
Pro-Islam protests broke out in the capital Niamey which gradually spread to other parts of the former French colony.
Several churches were torched by the protesters as police fired tear gas to contain the situation.
President Mahamadou Issoufou has appealed for calm.
"They offended our Prophet Muhammad. That's what we didn't like. This is the reason why we have asked Muslims to come, so that we can explain this to them, but the state refused. That's why we're angry today," protester Amadou Abdoul Ouahab was quoted as saying by Al Jazeera.
The latest wave of protests came after Charlie Hebdo's last edition depicted Muhammad, revered by Muslims as a Prophet. Muslims consider any depiction of Muhammad as blasphemous.
French nationals have been advised to stay indoors for fear of attacks.
Meanwhile, French President Francois Hollande has defended the magazine's decision to publish the cartoons and hailed the freedom of speech prevailing in France.
"We've supported these countries in the fight against terrorism," I still want to express my solidarity [towards them], but at the same time France has principles and values, in particular freedom of expression," said Hollande.
"There are tensions abroad where people don't understand our attachment to the freedom of speech. We've seen the protests, and I would say that in France all beliefs are respected."