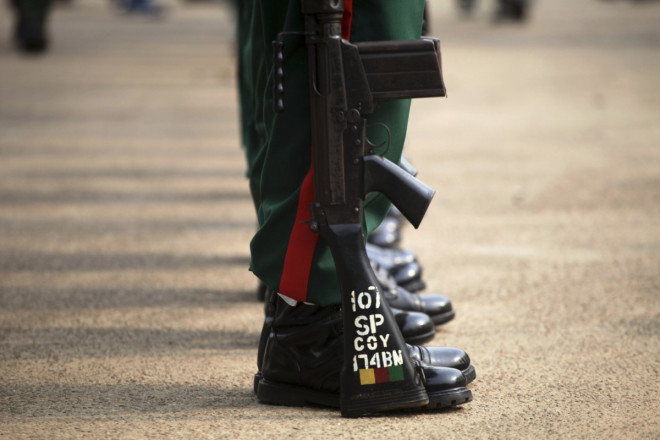 Ten generals and five senior military officers from the Nigerian military have been found guilty of providing arms and information to Boko Haram militants, according to local media.
A senior military officer told Nigerian newspaper, Leadership, that four other officers were found guilty of "being disloyal and for working for the members of the [Islamist] sect".
The court martial decision comes after allegations, from politicians and soliders, that senior military figures were aiding the Islamic extremists.
"There are a lot of arrests that have been made over some officers who were sabotaging the ongoing counter-insurgency operations," a senior military source - speaking on condition of anonymity - told Leadership.
"The suspects include about 10 generals and other ranks, not to talk of soldiers who have been found culpable of sabotaging our operations."
Another source told the newspaper that four generals "were found guilty of leaking military strategies to the Boko Haram people" that led to the ambush and killing of many soldiers.
The group has attracted international condemnation after the kidnap of over 200 schoolgirls from the village of Chibok among other deadly attacks across the country's northern regions.
The military has knowledge of the schoolgirls' location but does not wish to endanger their lives by trying to free them with force.
Nigeria's President Goodluck Jonathan has ordered a "full-scale operation" against Boko Haram following increasing attacks across the the country.
"I am determined to protect our democracy, our national unity and our political stability, by waging a total war against terrorism," he said in a televised speech.
"I assure you ... that these thugs will be driven away. It will not happen overnight, but we will spare no effort to achieve this goal," he continued.
Three northeastern regions of Adamawa, Borno and Yobe - where the Islamic insurgency is focused - have been under a state of emergency for almost a year.
Defence Ministry spokesman Maj. Gen. Chris Olukolade did not respond to requests for comment.