At least 200 people belonging to the Nigerian Movement for the Actualization of Sovereign State of Biafra (Massob) have been arrested when the police raided the movement's headquarters in Okigwe, Imo State.
What is the Republic of Biafra?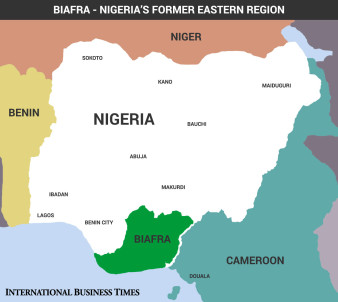 Nigeria's former Eastern Region was proclaimed the Republic of Biafra in 1967. It was re-annexed to Nigeria three years later, following a civil war that claimed between one and three million lives.
The fact that Nigeria's oil was located in the south of the country played a major role in the eruption of the war, during which medicines and food shortage in Biafra led to the death of thousands of people.
Biafra has been commonly divided into four main "tribes": the Ibos, the Ibibio-Efiks, the Ijaws and the Ogojas.
The modern-day states that made up Biafra from the eastern region and midwest are: Abia, Anambra, Akwa Ibom, Bayelsa, Enugu, Ebonyi, Imo, Delta, Rivers and Cross River and Edo.
Pro-Biafrans believe the modern-day Nigerian states that made up Biafra should be part of an independent state as people who inhabit these areas, and identify themselves as southerners, feel disenfranchised from those in the north.
The mass arrest came a few hours after the Nigerian Police released a statement urging authorities to clamp down on people involved in the violent struggle. The statement read: "This directive becomes imperative owing to recent activities of members of the Movement for the Actualization of Sovereign States of Biafran (MASSOB) and the Indigenous People of Biafra (IPOB) in some parts of the country."
Three Massob coordinators in Anambra State said that the whereabouts of the movement's leader, Chief Ralph Uwazurike, were unknown following the raid, according to a report by the Daily Independent. IBTimes UK contacted members of Massob and Ipob but has not received a response at the time of publishing.
In a previous interview with IBTimes UK, Ikechukwu Opara, a member of Massob, defined the movement as one of "the most influential umbrella groups for the current Biafran struggle, which can only yield results via Massob's ethos of non-violence."
The Nigerian government has accused Massob of violence and Uwazuruike was arrested in 2005 on treason charges. He was released two years later.
In an interview with IBTimes UK, government spokesperson Mike Omeri said the authority does not consider the separatist movements as a threat to the current leadership and defined pro-Biafrans as an "insignificant number of frustrated people who are not a threat to the existence of Nigeria".
He also slammed allegations of violence against pro-Biafrans as "entirely incorrect, misinformation and calculated to create bad blood and tension".
He added: "They [pro-Biafrans] want to create a picture of Nigeria that is not [true]. The government of Nigeria values human rights and has an obligation [to] protect lives."
Nigeria up close: Check out our Flipboard magazine