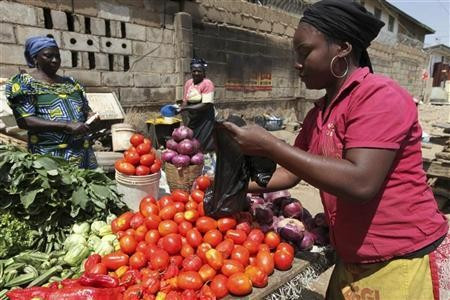 At least 25 people are reported to have been killed in a market in Nigerian village of Daku, Borno State.
Residents and a security official told Nigerian Premium Times that the gunmen, thought to be from Boko Haram, attacked the market on Sunday morning,
"It was about 11am when they drove in top speed into our market in Daku and they began to shoot at us," said trader Naaba Ijaya.
"We had to run when we got to know that they were Boko Haram people; many people may have been killed, and many others were injured, but one cannot tell how many of them."
Grocery seller Laraba Simon told Sky News: "Sunday is normally a market day and people from neighbouring villages had gathered at the local market in Daku when the insurgents laid siege.
"Scores of people escaped with bullet wounds while dozens of shops, stalls, houses, vehicles, motorcycles and assorted foodstuff were set ablaze by the rampaging attackers."
Witnesses said the suspected Boko Haram gunmen stormed the village in one Toyota Hilux and on several motorcycles.
Villagers found 15 bodies among the market stalls after the gunmen left. Other ten people were found dead in their homes.
An officer of the Nigeria Vigilante Group in Maiduguri, Gava Muhammed, said: "They [the gunmen] actually targeted food and other supplies during the attack; but they also shot at the people sporadically which led to the death of about 25 people and injuring many others."
The Borno state police command said it could not immediately confirm the attack.
Islamist Boko Haram has killed hundreds of civilians and politicians since its rise in 2002.
The insurgents - who oppose to the westernisation of the country and try to impose sharia law in Nigeria - made headlines worldwide for the massacre of 59 children and the abduction of more than 200 schoolgirls, in Chibok, Borno state.
Nigerian President Goodluck Jonathan has been accused of being unable to negotiate with the militants to find the girls and to end the militants' deadly attacks.