#BringBackOurGirls: Nigeria Bans 'Nuisance' Protests over Girls Mass Abduction by Boko Haram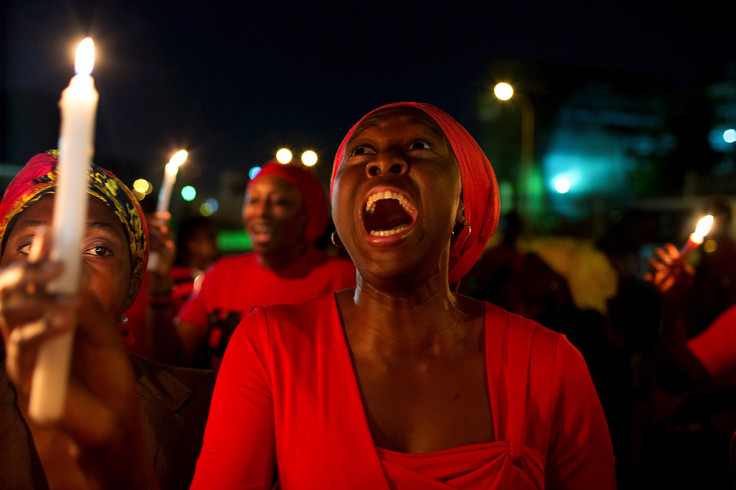 Police in the Nigerian capital Abuja have banned rallies calling for the release of nearly 300 schoolgirls kidnapped in April by terror group Boko Haram.
The city's police commissioner Joseph Mbu said the rallies were "now posing a serious security threat" and that protests had "degenerated".
"I cannot fold my hands and watch this lawlessness," said Mbu.
Asked whether the ban would violate the freedom of expression and assembly, the commissioner replied: "People have been protesting over a month now... it is the issue of terrorism. It is not solved in one day.
"When you continue to do it persistently, it becomes a nuisance to the government."
Mbu was also quoted by the state-run Agency of Nigeria as saying: "Information reaching us is that too soon dangerous elements will join the groups under the guise of protest and detonate explosive[s] aimed at embarrassing the government.
"Accordingly protests on the Chibok girls is hereby banned with immediate effect."
Boko Haram, which translates from Arabic as "Western education is sinful", opposes the Westernisation of Nigeria and wants to impose sharia law on the country.
The militants abducted the girls in Chibok, in Borno State, on 14 April.
The victims, aged between 16 and 18, are being allegedly smuggled to Cameroon and Chad and sold as brides to militants for 2,000 naira — £7. Others are being forced to marry their abductors.
Weeks after the abduction, Boko Haram leader Abubakar Shekau released a video claiming that the girls had been converted to Islam.
The mass abduction has sparked an international outcry.
Prominent political figures and celebrities have joined the Twitter campaigns #BringBackOurDaughters and #BringBackOurGirls which are attracting thousands of followers every day.
While Nigerian president Goodluck Jonathan has been harshly criticised for his lack of effort in negotiating with the terrorists to release the girls, several countries have joined the search.
While the hunt continues, fresh attacks by Boko Haram have killed hundreds of people.
© Copyright IBTimes 2023. All rights reserved.