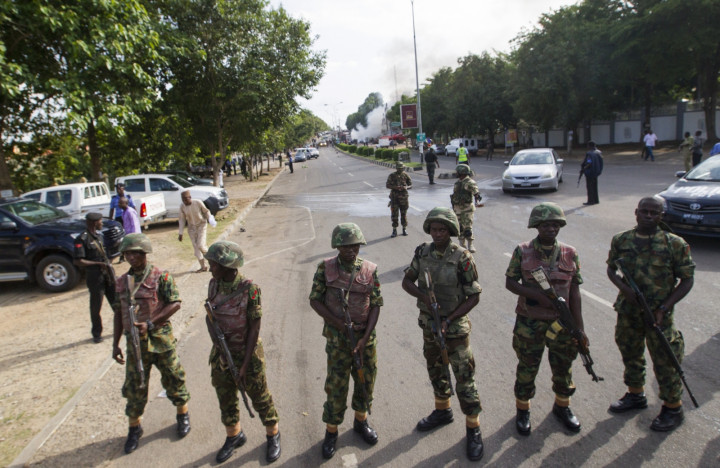 The Nigerian army has been accused of killing at least 16 members of terror group Boko Haram hours after it arrested them.
The men were found in a morgue with bullets wounds on their bodies.
"All the bodies have gunshot wounds on them," a nurse at the Potiskum General Hospital told news agency AFP.
Who are Boko Haram militants?

Boko Haram, which fights against Western influence in Nigeria and aims to impose its version of sharia law in the country, declared an Islamic caliphate in Gwoza, along the Cameroon border, in August 2014.

The group has been raiding several cities in the north of the country in a bid to take control of more land.

Borno, Yobe, and Adamawa states, where the militants usually carry out their attacks, have been under a state of emergency since May 2013.

Violence linked to Boko Haram's insurgency has resulted in an estimated 10,000 deaths between 2002 and 2013.
The bodies had been brought in by soldiers, the nurse continued, and were formally identified by community leaders.
The army has not commented on the allegations.
News of the mass execution came as the Nigerian government released 42 inmates suspected of being Boko Haram militants.
The detainees were released after being cleared of suspicion of belonging to the terror group.
"The Nigerian Army has for some time now been fighting terrorism in the country," a spokesperson for the 7 Division of the Nigerian Army told the Nigeria Bulletin.
"Over time some suspected terrorists were arrested and investigated. Forty two of the suspects were cleared of having any link with the terrorist group. Three out of the 42 cleared suspects are foreigners while the rest are Nigerians'".
He added that the division had given N100,000 (£371) to each of the 39 Nigerians to enable them return home and some of the former suspects will be also employed as tailors in the state service.
The release came a few days after suspected Boko Haram members carried out a mass jailbreak in Kogi state, central Nigeria, and a suicide bomb attack supposedly targeting Shia Muslims celebrating Ashura in Potiskum, Yobe State, which killed at least 32 people.
Boko Haram has repeatedly asked the government to release militants who had been captured, as a key condition to release some 220 schoolgirls abducted in Chibok, Borno State, last April.
President Goodluck Jonathan, however, always refused to release the insurgents.
Failed Ceasefire
Suspected Boko haram members stole dynamite and pick-up trucks from a French-owned cement works on Wednesday (6 November).
The raid came shortly after the terrorists cut off the hands of at least 10 civilians, who were punished for not having followed Sharia law.
Boko haram's fresh attacks came weeks after the Nigerian government announced it had reached a ceasefire with the terror group.
Critics cast doubts over the ceasefire, as Boko Haram's leader Abubakar Shekau did not release any official statement regarding the truce.