At least three people have been killed in a bomb attack on a taxi rank at a busy market in the Nigerian town of Maiduguri, capital of restive Borno state.
According to some reports, the bombing was carried out by a woman who detonated her device as she reached the Gomboru vegetable market.
However, businessman and ambassador for peace Ahmed Umar Bolori, who is based in Maiduguri, told IBTimes UK that the attack was actually carried out by two men who approached the market on a tricycle. He added that authorities have arrested two people, but it is yet not clear whether the arrest was in connection with the attack.
Bolori also said that shortly after the attack, people started going to the scene, fearing that their loved ones could have been killed.
No-one has so far claimed responsibility for the attack, but suspicions are likely to fall on terror group Boko Haram, which has killed more than 13,000 people since its insurgency became violent in 2009.
Abubakar Saleh, a member of the Civilian Joint Task Force (CJTF) who witnessed the blast, told IBTimes UK that the attack occurred around 7am and confirmed that at least three people have been killed and five injured.
"We have sleepless nights in order to protect civilians," he said and added that the CJTF is sure the attack was carried out by Boko Haram, which "is the only one that has been doing so. There is no other organisation."
Saleh added that both the CJTF and the Nigerian army patrol Maiduguri during peak times, but they were not patrolling the area this morning as civilians in Maiduguri tend to stay at home in the morning. He added that the number of victims could have been higher if the attack was carried out in the afternoon.
A curfew has been imposed in Maiduguri for security reasons and people are not allowed to leave their homes from 9pm till 6am unless in case of emergency. Saleh also called on civilians to be vigilant and added that he keeps praying and hopes the attacks will stop.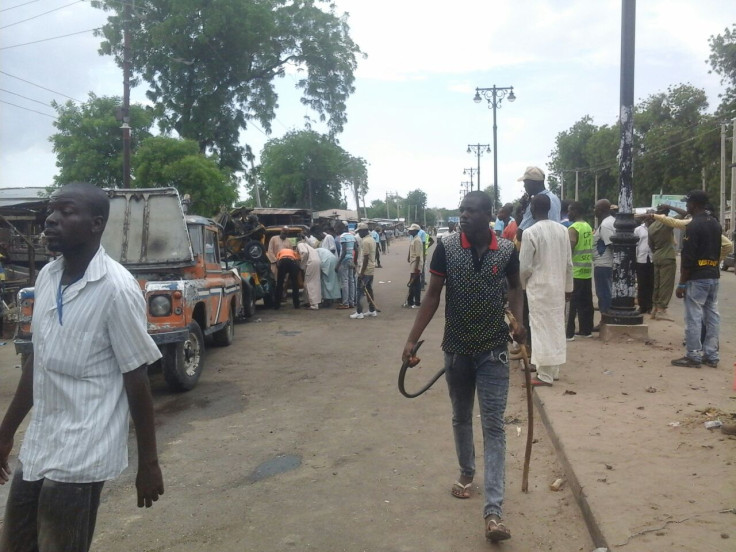 Who are Nigeria's Boko Haram terrorists?
Boko Haram (recently renamed Iswap) fights against Western influence in Nigeria and aims to impose its version of Sharia law in the country.
The group declared an Islamic caliphate in Gwoza, along the Cameroon border, in August 2014.
Boko Haram has raided several cities in the north of the country in a bid to take control of more land.
Three states − Adamawa, Borno and Yobe − have been under a state of emergency since May 2013, due to Boko Haram's attacks.
The group has killed more than 3,000 people since the beginning of 2015.
The bomb attack occurred shortly after the Nigerian military released 59 people who were being kept captive by the terrorists.
The kidnapped civilians − 29 women, 25 children and five elderly people − were freed as soldiers stormed two camps in the Kodunga district, in the restive state of Borno, as part of an ongoing offensive against the terrorists.
Boko Haram is renowned for for kidnapping civilians – mainly women and children – and forcing them to participate in terror attacks in northern Nigeria and neighbouring countries.
The mass-rescue came as Nigerian soldiers freed another 31 people held captive by Boko Haram.
Nigeria is currently aided by troops from Chad, Niger, Benin and Cameroon in an offensive against the terrorists. The Nigerian military announced that a new task force comprising some 8,700 troops from Nigeria and neighbouring countries is ready to take over in the ongoing fight.
Nigeria's president Muhammadu Buhari named Major General Iliya Abbah as the new head of the multinational task force, that is expected to be more efficient than the present offensive, which scored some successes since it started earlier in 2015.
Nigeria up close: Check out our Flipboard magazine
More about Boko Haram and Nigeria: