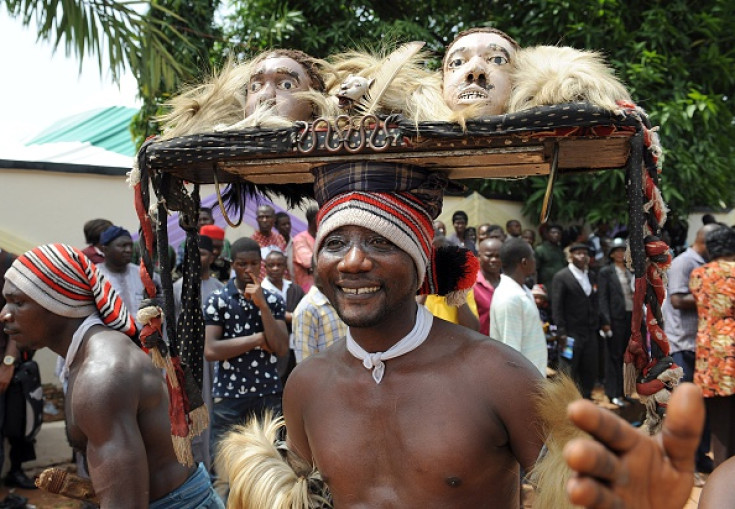 Nigerian supporters of the reinstatement of the Republic of Biafra – territories independent from Nigeria from 1967 until 1970 and re-annexed to the African nation following a civil war that killed between one and three million people – reacted with outrage to claims that they have purchased arms and might join forces with the Niger Delta militants.
In previous articles on the separatist movement, IBTimes UK interviewed members of the intelligence as well as the Nigerian police, which warned the movement might become violent in its bid to create a separate state from Nigeria.
David Otto, CEO of UK-based global security provider TGS Intelligence Consultants, said: "We know that the Biafran movement has acquired ammunition during [former president Goodluck] Jonathan's administration and they are working with the Niger Delta militias, who are well-armed," he continued. "Niger Delta militants are willing to join forces because they will be able to create more unrest and carry out their activities without any disruption. The benefit is enormous."
A perceived increase in pro-Biafran activities was also confirmed by the Anambra State commissioner of police, Hassan Karma, during another interview with IBTimes UK. He said: "It is people taking laws into their hands and it's the same situation that generated Boko Haram today in the north east. People started like this, even in Niger Delta, where militants started kidnapping people for extortion."
However, those who support the Biafra cause argued such claims only aim to smear the reputation of pro-Biafrans who, they say, are not and will never be a violent movement. One Twitter user said: "Biafrans need freedom." Another argued Biafrans "are not and cannot be associated with terrorists".
A member of Ipob [the Indigenous People of Biafra], who spoke to IBTimes UK under conditions of anonymity, alleged that "the Nigerian government and institutions will do anything possible to discredit the viability of what we are agitating for". The source alleged that police are arresting people who have the Radio Biafra application on their mobile phones and added: "Niger Delta militants are Biafrans who are called by such name only to further divide Biafra."
Pro-Biafrans have also alleged that the Nigerian police are violent against them. When contacted by IBTimes UK earlier in September, Amnesty International said there was "credible evidence" that pro-Biafran separatists in Nigeria were targeted by police and that they were tortured and arbitrarily jailed in the past.
Oleehkukyu Ali, spokesperson for the police in Anambra, replied to the claims by saying: "Recently, in this [Anambra] and other states in the country there has been a kind of excitement from members of pro-Biafran groups, and this excitement has led to their processions to become chaotic. Pro-Biafrans are not considered as a threat, but inciting people to [participate] in violent processions is against the law and no government watches any group operates under such conditions."
IBTimes UK has contacted Ipob coordinators and members for further comments but has not received an answer at the time of publishing.