Biafra protests: US, Nigeria condemned for remaining silent while 'bomb waits to detonate'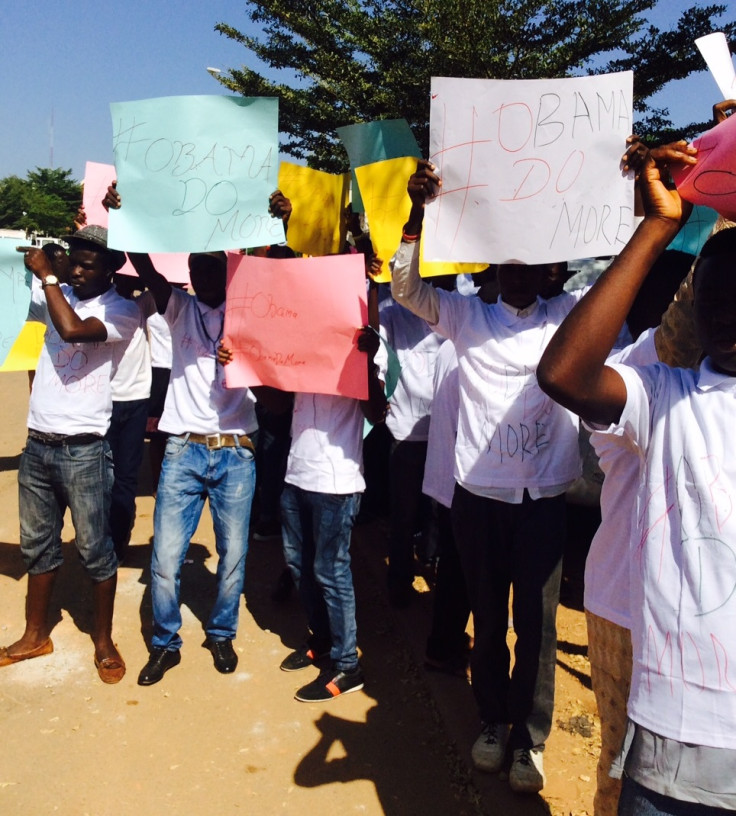 A group of Nigerians and Americans has criticised the US for ignoring the increasing tension in southeastern Nigeria. Demonstrators gathered outside the US embassy in Abuja this week to urge Barack Obama and the Nigerian government to strengthen democratic institutions in the West African nation and address the issue of pro-Biafran calls for independence.
The protest, organised by umbrella organisation 33 International, came as a wave of rallies by pro-Biafrans is rocking the country's south-east and south-south. Pro-Biafrans are calling for the independence of territories that constituted the Biafran Republic, established in 1967 and re-annexed to Nigeria in 1970, following a civil war that claimed between one and three million lives.
Supporters of the Biafra cause hold regular marches − which they call "evangelisation" − across several states in southern Nigeria, mainly inhabited by the Igbo ethnic group. Protests have intensified in the past few days in Nigeria and other states after Biafran leader Nnamdi Kanu was apprehended in Lagos in October.
Some Nigerians said they were concerned about the ongoing pro-Biafra protests while the Nigerian police told IBTimes UK that pro-Biafrans act in a violent manner during their rallies, which disrupt peace in the country.
Public relations officer for the police in Anambra state, Oleehkukyu Ali, also said the police have nothing against pro-Biafran groups as long as they behave in a peaceful way.
"Our country provides freedom of association, speech and movement," he said. "But groups have to behave peacefully. Police in Anambra are operating a very open policy and leaders of groups should engage with us and let us know what they are doing so we are aware of protests."
On the other side, pro-Biafrans claims they are holding peaceful demonstrations and blame the police for any violence that occurs. Police have denied these claims, but Amnesty International said in an exclusive report by IBTimes UK there was "credible evidence that pro-Biafran separatists in Nigeria are targeted by police".
Below are some extracts of a letter addressed to Obama that 33 International handed in at the US embassy;
---
Nigeria up close: Check out our Flipboard magazine
---
We, of Nigerian American descent, Nigerians, and Americans living in the Federal Republic of Nigeria, are very concerned about the disturbing silence of President Barack Obama and the United States Government to the current pro-Biafra protests sweeping through South-East and South-South Nigeria.
The matter is especially disturbing because over three people have been confirmed dead from stray bullets by Nigerian soldiers during the peaceful protests that have seen as much as 10,000 youths storm the streets of Port Harcourt.
What started as an arrest of a single man, Nnamdi Kanu, by the Directorate of State Security (DSS) has turned into a situation that is without a doubt a bomb waiting to detonate, and will cause massive unrest in Nigeria as more protests are being staged around the country, and the Nigerian government has shown no signs of actions to quell the crisis whatsoever.
It is with a heavy heart that we remind President Barack Obama and the United States government that these same "Biafra" sentiments now intoxicating the jobless and irritated mostly "IGBO" youths to a frenzy on the streets of Imo, Owerri, Enugu, Asaba and Port- Harcourt led to one of the most devastating wars in Nigeria's history: the Biafran war, which caused the alarming loss of up to three million lives.
We also want to remind President Obama of the dangerous connection of the "Biafra territory" to the Niger Delta which is currently suffering a re-surge in violence as a result of the chronic poverty and catastrophic oil pollution which fuelled the earlier Niger-Delta conflicts and have remained largely unsolved.
Recent threats by Chief of Air Staff, Air Marshall Sadiq Abubakar to crush the pro-Biafra protesters with military action, violence is most assuredly not the solution and will quickly escalate the crisis.
We urge President Barack Obama and the United States government to implore on the Nigerian military that military brutalization and human rights abuse by the Nigerian security agencies is not the way to go. The right to peaceful protest is an integral part of a democratic society, which both the U.S and Nigeria have fought tirelessly to ensure Nigeria rightfully becomes.
Corruption is without a doubt, the biggest impediment to growth in Africa as President Obama and several key United States officials have reiterated several times. This is why we are highly disappointed that President Barack Obama and the United States government have decided to turn a blind eye to the fact that both APC candidates in the upcoming Kogi and Bayelsa state governorship elections have been indicted by Nigeria's anti-corruption agency, the EFCC for monumental corruption charges running into billions of Naira.
In a democratic society, we believe it's not too much to ask that candidates who want to run for sensitive positions such as Governorship positions, at least clear all current criminal charges against them before the government allows they take roles of leadership.
We call on President Barack Obama to remember his position and the mantle of global leadership that comes with the office he occupies, and hence act swiftly on this matter.
We call on President Obama to create a special commission to intervene in the Pro-Biafra upheavals and also implore on the Nigerian government the immense dangers of putting men with huge corruption charges worth billions of Naira as the governors of state if Nigeria wants to ever be free from the corruption that has ravaged it to become the skeleton it is today.
We Nigerian Americans, Nigerians, and Americans in Nigeria believe this is the right time for President Barack Obama and the United States government to act before the situation gets out of control.
© Copyright IBTimes 2023. All rights reserved.