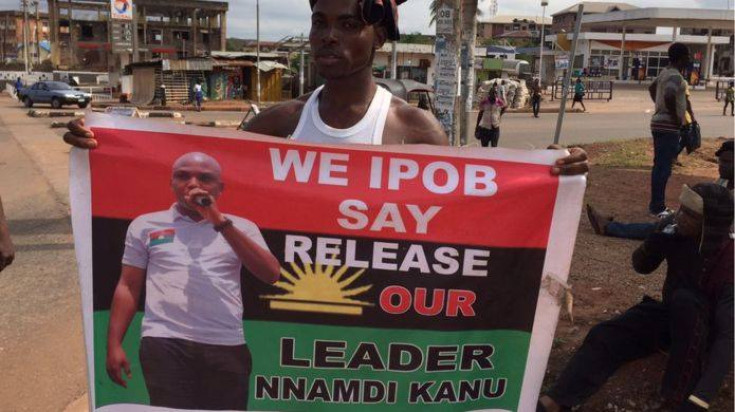 The leader of a separatist movement that calls for the independence of Biafran territories in south-eastern Nigeria has been urged to change the way he advocates for Independence. UK-based Nnamdi Kanu is the leader of the Indigenous People of Biafra (Ipob) group and is the director of London-based radio station Radio Biafra, which the Nigerian government has deemed illegal.
Pro-Biafrans call for the independence of territories that constituted the Biafran Republic, established in 1967 and re-annexed to Nigeria in 1970, following a civil war that claimed between one and three million lives. Supporters of the Biafra issue hold regular marches − which they call "evangelisation" − across several states in southern Nigeria, mainly inhabited by the Igbo ethnic group.
Protests have increased in the past few days after Kanu was apprehended in Lagos in October. According to Nigeria's state-security service (DSS), he was released on bail, but his supporters and his lawyer, Vincent Obetta, confirmed to IBTimes UK that he is still being detained.
Supported by thousands of people, Kanu has also been criticised by others for advocating for violence in order to gain independence. In video interviews posted on YouTube, Kanu is heard saying things such as: "If they fail to give us Biafra, Somalia will look like a paradise," referring to the deadly insurgency carried out by Islamist outfit Al-Shabaab.
During the recording of a speech delivered on Radio Biafra, Kanu said: "The mission of Radio Biafra is very simple: To get Biafra, by every means necessary and possible, including war," and "Nigeria will be completely bombed to the ground. Be prepared for that."
Other people also labelled Kanu as "a fraudster" who uses the Biafra cause for his own interests and accused Radio Biafra of promoting hate speech against non-Igbos. After days of protests calling for his release, Ephraim Adiele, associate editor of The Trent Online, wrote an open letter to Kanu. These are some extracts of his letter: