Biafra: Ipob leader Nnamdi Kanu urged to call for referendum and drop violent propaganda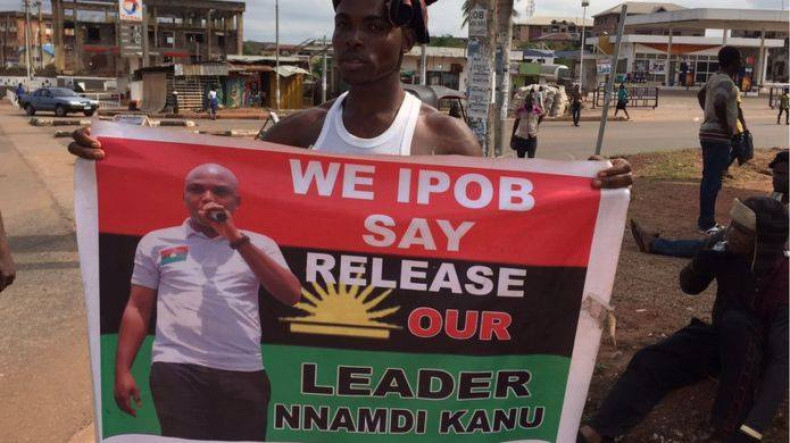 The leader of a separatist movement that calls for the independence of Biafran territories in south-eastern Nigeria has been urged to change the way he advocates for Independence. UK-based Nnamdi Kanu is the leader of the Indigenous People of Biafra (Ipob) group and is the director of London-based radio station Radio Biafra, which the Nigerian government has deemed illegal.
Pro-Biafrans call for the independence of territories that constituted the Biafran Republic, established in 1967 and re-annexed to Nigeria in 1970, following a civil war that claimed between one and three million lives. Supporters of the Biafra issue hold regular marches − which they call "evangelisation" − across several states in southern Nigeria, mainly inhabited by the Igbo ethnic group.
Protests have increased in the past few days after Kanu was apprehended in Lagos in October. According to Nigeria's state-security service (DSS), he was released on bail, but his supporters and his lawyer, Vincent Obetta, confirmed to IBTimes UK that he is still being detained.
Supported by thousands of people, Kanu has also been criticised by others for advocating for violence in order to gain independence. In video interviews posted on YouTube, Kanu is heard saying things such as: "If they fail to give us Biafra, Somalia will look like a paradise," referring to the deadly insurgency carried out by Islamist outfit Al-Shabaab.
During the recording of a speech delivered on Radio Biafra, Kanu said: "The mission of Radio Biafra is very simple: To get Biafra, by every means necessary and possible, including war," and "Nigeria will be completely bombed to the ground. Be prepared for that."
Other people also labelled Kanu as "a fraudster" who uses the Biafra cause for his own interests and accused Radio Biafra of promoting hate speech against non-Igbos. After days of protests calling for his release, Ephraim Adiele, associate editor of The Trent Online, wrote an open letter to Kanu. These are some extracts of his letter:
"Kanu should imagine the kind of global support the IPOB movement would have garnered if he had continually pushed for a referendum. That's the kind of thing that would sell without having to gain unnecessary enemies in the international community before his dream is even actualised. No smart revolutionary goes to public domain to solicit multi-billion dollar funds to acquire weapons.
"Nnamdi Kanu has one of the most powerful propaganda medium ever - A RADIO STATION. But in my opinion, he is not spreading the right propaganda. Inciting people towards violence when you live in the UK and hold British citizenship is not a true revolutionary move.
"I insisted that if Nnamdi Kanu was in anyway serious, he should leave the UK, return to Nigeria and say those things he has been saying, so when he is picked up, his followers can "Mandelarise" him.
"I was impressed because Kanu had succeeded in making people in the South-East and South-South realise that there is a possibility for them to "leave." This is okay, but I do not agree with the propaganda that is foisting marginalisation as its primary argument and violence as its primary weapon. There is a greatly violent marginalisation happening in the Middle Belt,
"Radio Biafra and IPOB are not putting into consideration the millions of Igbos and South-South indigenes who are living outside the "Biafran" territory. In plain English: Biafra is not a topic of popular discussion in many, many places in Nigeria. But Kanu needs to reach out if he knows what he is doing... which I mostly doubt.
"As I write this, Kanu is yet to be released, I read that his bail conditions are yet to be met or something of that nature. There have been protests in Rivers, Delta, Enugu and Anambra states. There have also been solidarity marches in several countries around the world. But to what end?
"I've listened to Kanu several times on Radio Biafra and watched a few video clips. The young man is smart. But not smart enough in my opinion. In every revolutionary move, military tactics can never be overlooked. In fact, it is the most important thing to put into consideration, but you do not bring it to the front burner. It is left in the background while diplomatic strategies are employed and explored to the fullest."
Ephraim Adiele's letter in full.