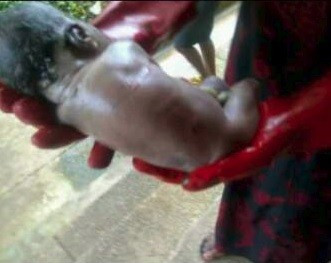 A university student from the Nigerian state of Osun has reportedly been caught trying to flush her newborn baby down a toilet.
According to local reports, the unidentified undergraduate from Obafemi Awolowo University gave birth to the boy in the toilets of the Moremi Hostel.
She then allegedly tried to dispose of the child by putting him in the toilet and attempting to fill the commode with water.
A cleaner raised the alarm after she went to clean the toilets and heard the baby crying inside one of the toilet stalls and saw blood coming from under the door.
"When I came out, the cleaner had gone to call other cleaners and hall warders. When they came back, the baby was already crying. The warders had to force the door open," a witness told news site CKN Nigeria.
"As the door opened suddenly, we saw that the baby had been turned upside down, with his head inside the closet. One of the cleaners immediately removed the baby from the closet. The baby was still breathing but bleeding from his nose."
Both mother and child were rushed to Obafemi Awolowo University Teaching Hospital for treatment.
A university spokesman confirmed that the case was under investigation.
"The case is being investigated. The baby survived, the mother too survived. Both have been taken to the health centre," said Mr. Abiodun Olanrewaju.
In May, a baby boy was rescued from a 10cm diameter sewage pipe beneath a squat toilet in Jinhua City, eastern China.
Firefighters sawed through a section of pipe and then used pliers to free the infant after residents reported hearing a baby's cries.
His 22-year-old unmarried mother claimed he slipped into the sewer after she gave birth unexpectedly on the toilet.