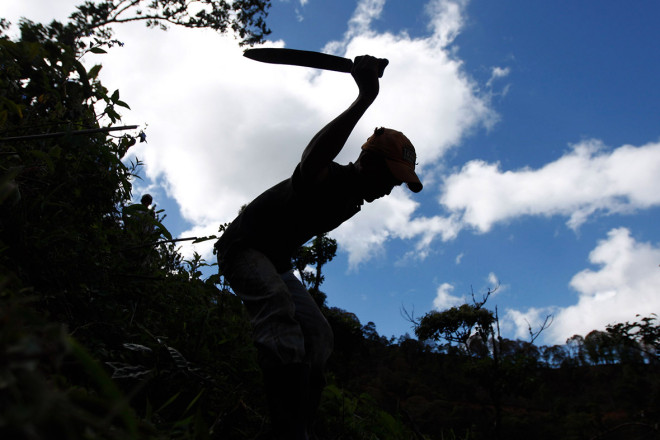 A 30-year old man beheaded his father with a machete and ate the neck from the corpse after a "voice" ordered him to perform the act.
Nwode Chukwudi Awam, the son of 56-year old Michael Awam, was discovered eating the flesh when the police arrived at the grisly scene..
The incident took place in the Egwudinagu Obegu village in Ebonyi State, south eastern Nigeria.
"He was seen eating the entire stub of the neck. So when you look at the exhibit, the head doesn't have the neck even though he did the beheading from the base of the shoulder. You will not see the part of the body that is supposed to be the neck; he ate it up," said police spokesperson and Assistant Superintendent of Police Chris Anyanwu, according to the local daily Vanguard.
A picture has also been circulating in local blogs in which a naked man is seen holding a severed head. [LINK – WARNING EXTREME GRAPHIC CONTENT].
The victim's remains have been sent to a nearby hospital for autopsy. The authorities are unsure whether it is part of any ritual.
The police spokesperson said: "When the police went for him, he was waving the machete which he used to cut his father's head and threatening to kill anybody that gets close to him. He was overpowered all the same."
The suspect, who had returned to the village after six years, said he heard a voice in his mind ordering him to kill his father.
Earlier, a Nigerian restaurant was busted after it was revealed it served human organs.