Nintendo has announced that The Legend of Zelda will be getting its first ever season pass with Nintendo Switch launch title Breath of the Wild. The 'expansion pass' will include two sets of downloadable content (DLC) which will launch later this year.
"Starting when the game launches on 3 March, players will be able to purchase an Expansion Pass for £17.99/€19.99, granting access to two new sets of downloadable content for the game when they become available later this year," reads Nintendo's statement.
Also, when a player purchases the season pass, three special treasure chests will instantly appear in the Great Plateau - the game's starting location.
Don't get too excited though, these chests will include in-game items including a Nintendo Switch t-shirt.
"The first content pack is scheduled to launch this summer and will include the addition of a Cave of Trials challenge, a new hard mode and a new feature for the in-game map.
"The second content pack will launch in Holiday 2017, and adds new challenges that will let players enjoy a new dungeon and a new original story."
The expansion pass and future DLC will be available for both the Nintendo Switch and Wii U versions of the game.
Nintendo starting experimenting with post-release DLC during the Wii U era, primarily with Super Smash Bros, Mario Kart 8 and Splatoon. The latter was given a steady stream of free updates that included new maps and modes, while DLC for MK8 and Smash involved paid DLC for new characters and stages.
The experiments were successful, across the board the reaction to Nintendo's DLC plans were positive. Splatoon's free updates sustained the game's audience and kept it popular for months after release, while Mario Kart's premium DLC offered great value for money.
In the announcement video below, The Legend of Zelda series producer Eiji Aonuma says: "With this additional content, we'd like to give even seasoned Hyrule explorers something new and fun. " It also includes an overview of what to expect (embedded below).
The Legend of Zelda: Breath of the Wild launches for Nintendo Switch and Wii U on 3 March.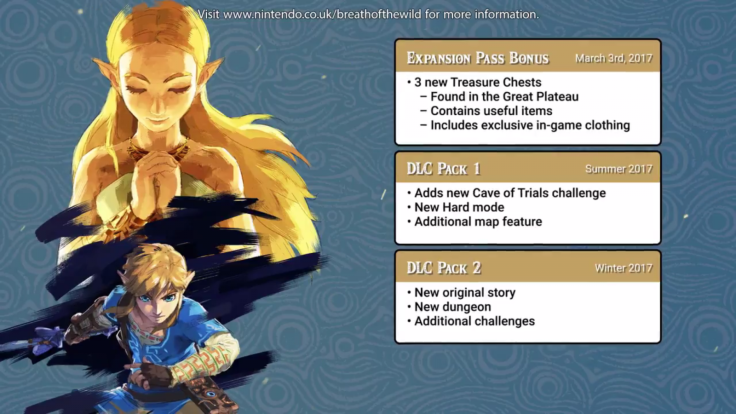 For all the latest video game news follow us on Twitter @IBTGamesUK.