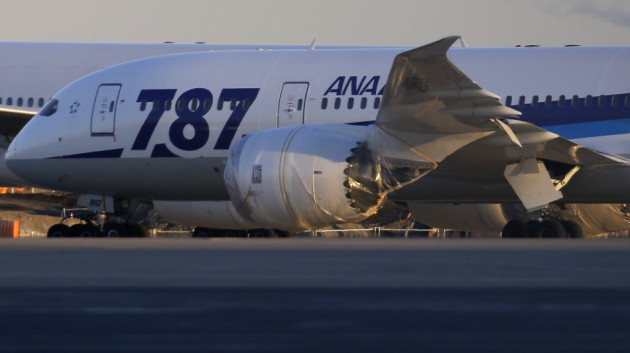 Japan is expected to permit the troubled Boeing 787 jets to go on air as early as this week, paving way for airlines to start test flights and resume commercial service.
Japanese transport minister Akihiro Ota said that the Ministry of Land, Infrastructure, Transport and Tourism will officially announce the decision to lift the grounding of the aeroplanes after two days of public hearings by the US National Transportation Safety Board starting 23 April.
After approving the battery system modifications suggested by the aircraft maker Boeing, the US Federal Aviation Administration (FAA) had previously said it will issue an airworthiness directive for the planes this week. The directive formally lifts the US ban on passenger flights.
Meanwhile, Japan's All Nippon Airways (ANA), the largest operator of the Dreamliner 787 aircraft, said it is waiting for revised directives from the US and Japanese authorities in order to complete test flights and resume commercial operation.
"The specific date as for flight resumption has not been determined yet in the situation where the Airworthiness Directive (AD) of the U.S. and Technical Circular Directive (TCD) of Japan have not been revised," Jean Saito, ANA manager of marketing communications, told IB Times UK.
"The decisions on the schedule for resumption of commercial flights will be determined after all necessary preparations are completed."
The company noted that it has begun working on implementation of the required modifications to the battery system from 22 April, after they were approved by the FAA.
Each battery modification takes about 5 days to install, according to Boeing. Repairs on all 17 of ANA's 787s are scheduled to be completed by the end of May.
The airline is planning to conduct about 100 to 200 round-trip test flights in May of the repaired aircraft before carrying passengers again, "sources knowledgeable about the company's operations" previously told Reuters.
ANA owns 17 Dreamliners and is the world's largest operator of the lightweight aircraft, followed by Japan Airlines with seven jets, and United Airlines and Air India with six each.
ANA and Japan Airlines are expected to resume commercial flights as early as in June after completing modifications to their 787 fleets.
The entire Dreamliner 787 fleet was grounded earlier in January on orders from regulators after batteries on two aircraft overheated. Boeing has worked hard to find out the issue with the battery, but is yet to unravel what caused the battery to overheat.
The FAA approved the modifications to the battery system suggested by Boeing, asserting that the plane is safe to fly. The approved plan requires Boeing to encase the lithium-ion batteries in a steel box, install new battery chargers, and add ventilation to the system to emit gases directly outside the aircraft in the event of overheating.