Japanese Airlines Ground Boeing Dreamliners after Emergency Landing [VIDEO]
All Nippon Airways' 787 makes emergency landing in Japan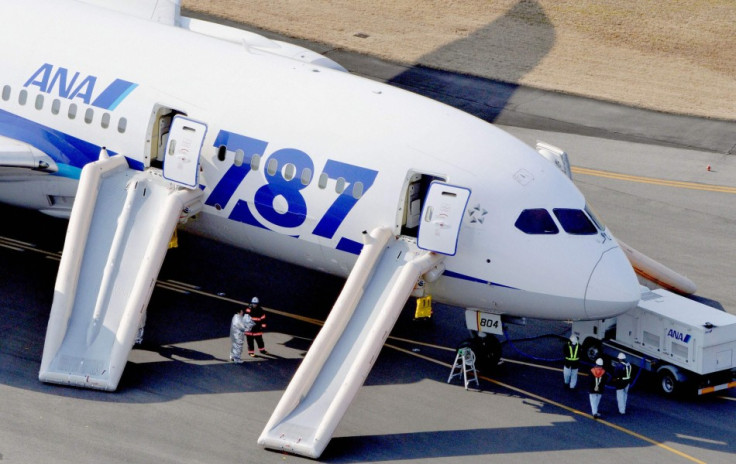 Japan's two major airline companies have announced plans to ground all their Boeing Dreamliner jets after one of them was forced to make an emergency landing.
The All Nippon Airways (ANA), the first company in the world to get a 787 jet, said that a battery error had triggered warning message and smell in the cockpit and cabin, prompting the pilots to urgently land at Takamatsu Airport in Southwestern Japan. Last week, the same lithium ion battery had caused fire in a 787 aircraft at Boston airport.
Yuzuru Ogasawara, chief of the transport ministry's Takamatsu airport bureau said that the control tower reports showed smoke arising from the aircraft, reported Bloomberg. All the passengers and crew were evacuated safely. ANA has taken all of its 17 Dreamliner carriers out of service.
Japan Airlines (JAL), which is already testing its 787 fleet after a host of issues, also confirmed that it will suspend the operation of the jets due to safety concerns. Both carriers have not confirmed when the jets may return to service.
The latest incident poses the biggest setback to Boeing's efforts to quell concerns on its most advanced product after a series of mishaps that raised safety concerns.
The jet is already facing a broad review from US authorities after fuel leakage and battery fire concerns on the JAL flight in Boston. Bloomberg reported that the U.S. National Transportation Safety Board has confirmed that it is aware of the latest incident and is monitoring it closely. Japanese authorities are also investigating the fuel leakage in JAL's aircraft.
Japanese transport minister has said that the confidence on the carrier was at stake, given the recent safety concerns. The series of incidents have prompted analysts to suggest that Boeing will have to take urgent measures to avoid a serious problem.
"I think you're nearing the tipping point where they need to regard this as a serious crisis," Richard Aboulafia, a senior analyst with the Teal Group in Fairfax, Virginia told Reuters.
"This is going to change people's perception of the aircraft if they don't act quickly."
In an email response to Bloomberg, Boeing spokeswoman Lori Gunter said that "We are aware of the event and working with our customer," adding that the firm did not have more details to share for the moment.
Following the incident, Boeing's components suppliers plunged in Japanese markets. Fuji Heavy Electricals and GS Yuasa Corp, which manufacture the batteries for the jet plunged 2.11 and 4.17 percent respectively. Shares of ANA were down 0.5 percent.
© Copyright IBTimes 2023. All rights reserved.