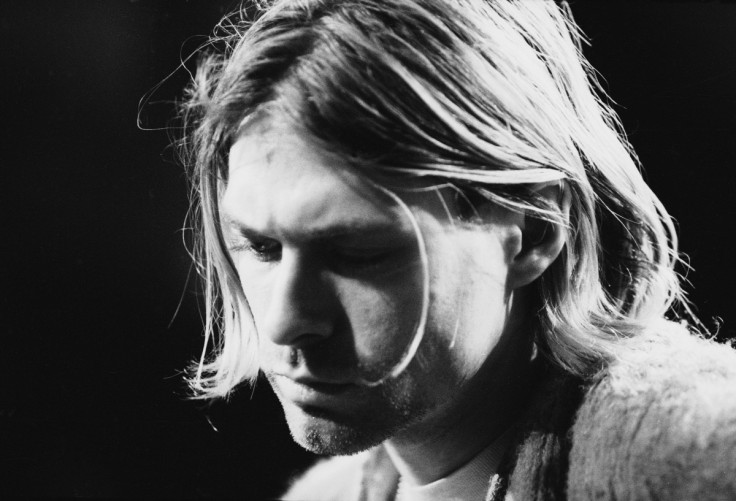 It's been more than 20 years since the death of Nirvana frontman Kurt Cobain. And now, previously unseen photographs from the band's first ever gig have been discovered – by a teenager who had no idea of their "historical" worth.
Maggie Poukkula took to Twitter on 16 July 2015 to share the snapshots of Cobain – with band members Krist Novoselic and then-drummer Aaron Burckhard – during what looks to be an intimate performance in someone's house. The 19 year old captioned the post "Pictures of my dad and Kurt Cobain playing together back in the day", and later explained that she had found them inside a book while clearing out her family home.
As it turned out, her father used to play with the band back in the late 1980s and hosted a show at his home in Raymond, Washington in 1987, which consequently marked Cobain and Novoselic's first official gig as Nirvana. It has been reported that Tony and Cobain had known each other since childhood, and on occasion he and the Smells Like Teen Spirit singer would jam together before the band became successful.
In an interview with Rolling Stone, Poukkula said that she had "no idea that those were during Nirvana's first concert." She also went on to say: "My dad showed me them a while back, but he never mentioned that's what was going on in the photos.
"I found out because of all the articles. I didn't realise it was such a historical thing. I thought they were just cool pictures of my dad and Kurt jamming together."
Shortly after she posted images of the photographs, the picture and tweet went viral with many Twitter users pointing out the significance of the images to the young, unassuming poster. "These photos are from Nirvana's first ever concert in March/April 1987. Do you have any more??" asked Toolism One, whilst others tweeted her saying she had "struck gold".
Poukkula later hit back at a few spectators claiming that the images might be fake by stating that her family name can be found cropping up in Cobain's biography, proving that her father had some kind of association with the Washington-born lead singer.