The Stockholm Concert Hall hosted some of the world's most brilliant minds along with European royalty for the prestigious Nobel Prize ceremony in Sweden. The venue was decked for the occasion with 20,000 white, yellow and orange flowers – donated by the Italian city of San Remo where Swedish scientist and prize creator Alfred Nobel died on 10 December 1896.
Ten laureates were handed their Nobel diplomas and gold medals by Sweden's King Carl XVI Gustaf on 10 December at the concert hall. The ceremony featured classical music presentations by prestigious institutions.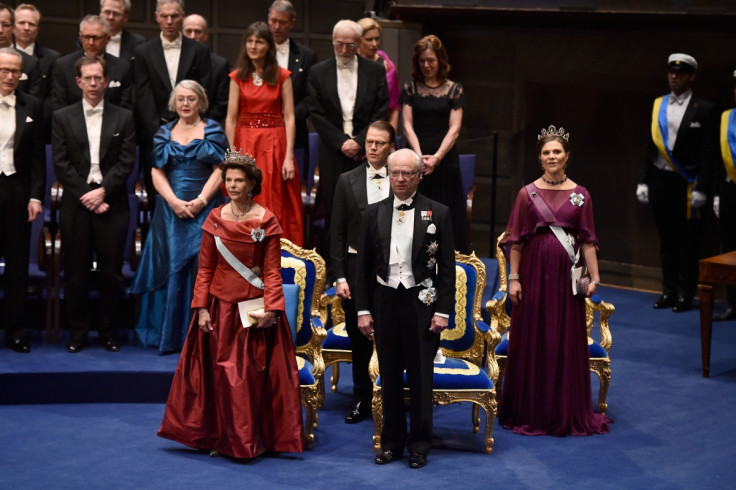 This was followed by the Nobel Banquet at the capital's City Hall, which was decorated with gold candelabra and intricate table settings. The Swedish royals including Queen Silvia, Crown Princess Victoria, Princess Sofia and Princess Madeleine wearing glittering tiaras for the gala, brought a level of opulence to the lavish affair.
King Harald V of Norway, Queen Sonja along with Prince Haakon and his wife Crown Princess Mette-Marit also attended the illustrious event.
The Nobel Peace Prize Concert to be held on 11 December will be hosted by US TV star Jay Leno at the Telenor Arena.
Award winners
Takaaki Kajita from Japan and Arthur B McDonald from Canada were awarded the Nobel Prize for Physics for the discovery of neutrino oscillations, which shows that neutrinos have mass.
The Nobel Prize in Chemistry went to Tomas Lindahl, Paul Modrich and Aziz Sancar for mechanistic studies of DNA repair. Medals for medicine were awarded, to William C Campbell and Satoshi Ōmura for their discoveries concerning a novel therapy against infections caused by roundworm parasites and another to Youyou Tu for her discoveries concerning a novel therapy against Malaria.
Svetlana Alexievich winner of the Nobel Prize in Literature said during her banquet speech, "Why do I write? I have been called a writer of catastrophes, but that isn't true. I am always looking for words of love. Hate will not save us. Only love. And I have hope..."
The most prominent prize, the Nobel medal for Peace went to Tunisia's National Dialogue Quartet for its decisive contribution to the building of a pluralistic democracy in the country in the wake of the Jasmine Revolution of 2011.
The Tunisian National Dialogue Quartet is made up of a group of organisations: L'Union générale tunisienne du travail (UGTT), employers' organisation L'Union tunisienne de l'industrie, du commerce et de l'artisanat (UTICA), human rights organisation La Ligue tunisienne des droits de l'homme (LTDH), and national lawyers' association L'Ordre national des avocats de Tunisie (ONAT).
Speaking to reporters after the award ceremony, Houcine Abassi, secretary general of UGTT said, "We shed tears of joy we learned that we had been awarded the Nobel Peace Prize for 2015. Words couldn't express the pride we felt."
The Sveriges Riksbank Prize in Economic Sciences in Memory of Alfred Nobel was won by Ireland's Angus Deaton for his analysis of consumption, poverty and welfare.