We put the Nokia Lumia 900 smartphone running Windows Phone 7 software to the test.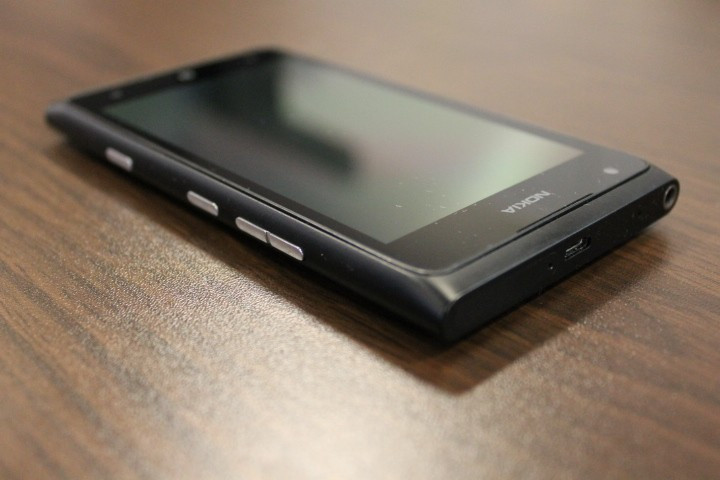 Key Features:
4.3in AMOLED touchscreen
1.4GHz single-core processor
Corning Gorilla Glass
8MP camera
Price as reviewed: £395 unlocked; free on two-year contracts costing from £26-a-month
Nokia Lumia 900: Overview
Nokia once ruled the world, with Symbian phones making it the largest phone vendor on the planet.
Since those glory days, Apple's iOS and Google's Android mobile operating systems have gobbled up the lion's share of the smartphone market and Samsung has taken Nokia's crown for the number of phones shipped every year.
Nokia's plan to become a major player in the smartphone market again? Join forces with Microsoft.
The Finnish company has put all its eggs in Microsoft's basket and crafted the Lumia handset range, with the Lumia 900 as its standard bearer. The Lumia 900 looks very similar to Nokia's N9 smartphone - which runs the now-defunct (kind of) MeeGo OS.
With the MeeGo operating system allowed to leave Nokia's HQ and make a life for itself elsewhere, can the link up with Microsoft bear fruit? Or will it be forced to embrace Android and become just another 'droid handset manufacturer? Let's find out.
Nokia Lumia 900: Screen
Smartphone screens offer an awful lot of real estate these days and the quality of those large screens is naturally going to have an impact on whether people buy them or not.
The Nokia Lumia 900 handset measures a pocket-filling 127.8 x 68.5 x 11.5mm and that allows for a 4.3in screen. The Apple iPhone 4S looks a little small these days next to that at 3.5in, although the 4.8in screen on Samsung's Galaxy S3 beats them both for size.
When it comes to the specifications, the Lumia 900 may be ahead of the iPhone on size but it is way behind on quality.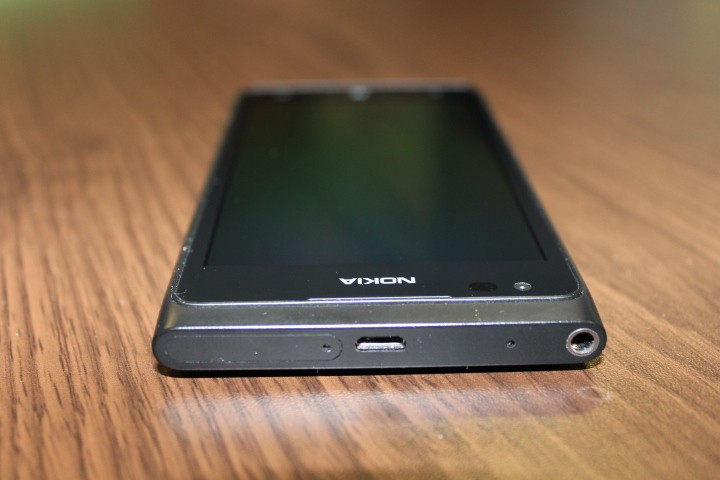 Apple's Retina display has a 960 x 640-pixel resolution (with a pin sharp 326 pixels per inch), while Samsung's Galaxy S3 phone offers a resolution of 720 x 1280. On paper the Lumia 900's 800 x 480-pixel AMOLED ClearBlack glass touchscreen is dead in the water.
In practice, that is not so much the case. Worries of a dull screen that lacks the clarity of its rivals are washed away as soon as you access the colourful tiles of the Windows Phone interface. Text is easily readable, while images - which move and catch the eye as you browse homepage apps - are bright and colourful.
There is also no sign of the purple discolouration seen on the screen when the Lumia 900 was launched in the US, which Nokia promised to solve with a software update.
Side by side, the Samsung S3 and iPhone 4S may be able to demonstrate better graphics. However, you will not fire up the Nokia Lumia 900 and think it has a poor screen as that is simply not the case.
Meanwhile, the Corning Gorilla Glass keeps minor scratches off the front as you carry it around in day-to-day use and the orientation sensor is very quick to recognise which viewing angle you are using.
Nokia Lumia 900: Design
The layout is fairly standard for a smartphone handset, with dedicated buttons for power or lock, volume (up and down) and camera. The camera key helpfully triggers that function when it is pressed, so you do not have to go into the phone's software to choose it.
Those four buttons are backed up by Windows UI keys embedded within the screen that open a Bing search page, go to the Start menu or take you back to the last function you used or the previous page you viewed.
The USB connection is situated at the very top of the device and while this is open to the elements and not hidden away as it was on the Lumia 800, it didn't present any problems in our extended period of use.
Access the Micro SIM is not as straight forward, as the handset has been created using a one-piece polycarbonate body.
Access is similar to the iPhone 4S in that you need to prod something like a paperclip into a hole to get the SIM holder to pop out, although Nokia cleverly includes a sturdy 'SIM door key' as part of the package.
Having the SIM accessed this way does make it more difficult if you have a problem with the card - as we did a couple of times with a SIM that had been cut down to size from a full-sized SIM card.
However, it is better than the system on the Lumia 800, which uses one opening that can be lifted up and another panel that slides out. These two doors often became stuck and needed some serious pushing to separate.
Nokia Lumia 900: Hardware
At 160g you won't have to check that the Lumia 900 is in your pocket as you will be able to feel it sitting there.
Packing out the device and adding to that weight are a 1.4GHz Qualcomm APQ8055 + MDM9200 processor, 512MB SDRAM memory and 16GB internal memory. Up to 14.5GB of that 16GB is accessible by the user, although Microsoft also points out that users have access to SkyDrive cloud storage.
Tech-savvy users will recognise that the Qualcomm chip is a single-core processor, while modern smartphones such as the Galaxy S3 now use much more advanced quad-core processors.
Again, in practice, the Lumia 900 smartphone outperformed what on paper looks like disappointing specs but this is doen to tight hardware and software integration, similar to Apple's iPhone.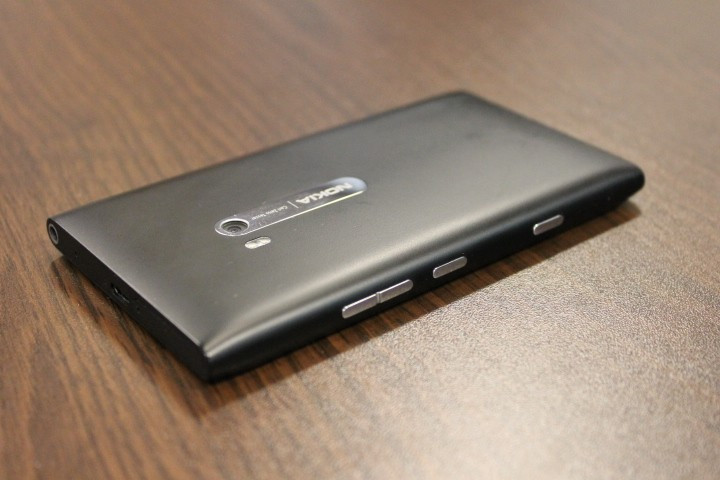 The only times it ran slow was signal-related, when we were in an area with poor mobile coverage and no Wi-Fi backup (which is starting to be less and less as even the Tube in London now provides internet access in certain stations).
PDF documents opened promptly from email, maps were displayed as soon as our position was located and typing speed kept up with our quick finger stabs.
It did stumble occasionally with high-processor functions such as gaming and it did crash twice in the space of a fortnight but for overall general use, we did not encounter any major problems.
In the US the same handset features a 4G LTE radio for super-quick mobile downloads. Who knows when the UK will get 4G?
Nokia Lumia 900: Camera and Video
The Nokia Lumia 900 comes fitted with two cameras. The main 8 megapixel camera sits on the back of the handset and a secondary 1 megapxiel camera for video calling is included on the front (although that camera can also capture lower resolution images and photos).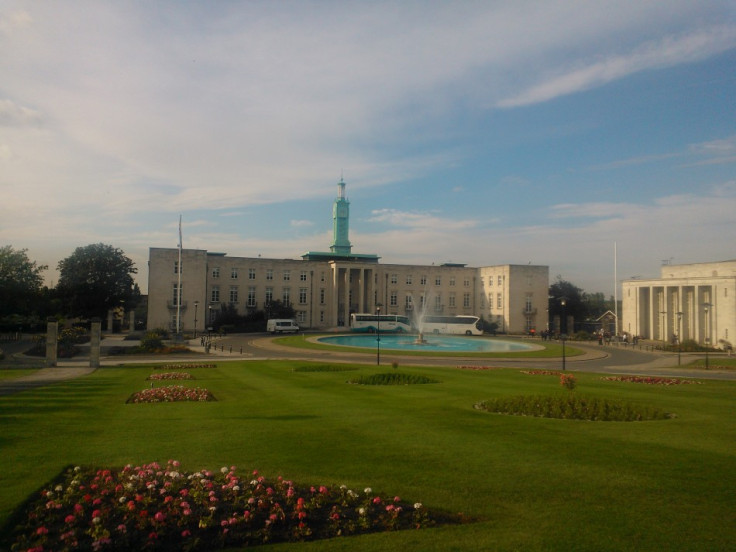 The image capture on the main camera was not particularly quick so serious photographers won't be falling back on this just yet.
However, the Carl Zeiss optics allowed some stunning images to be captured (see Walthamstow Town Hall on a sunny evening, above). It was only when bright sunlight was directly in shot - something that will ruin pictures from even dedicated cameras - that the camera had issues.
Video shot on the Lumia 900 has a maximum resolution of 1,280 x 720-pixels at a rate of 30 frames per second and sound quality was surprisingly good.
One major issue we did encounter - and it can be seen in our test video from the Big 6 Urban Classic - is that when you move from one subject to another it can take quite a while to refocus. That means things in shot are left blurred while the Nokia Lumia 900 sorts itself out.
Don't go looking for the zoom function as you are shooting either, as that is currently only available for still images. Other features such as a dual LED flash, Auto Focus, self-timer and the ability to change the white balance are a bonus.
An app update that improves the Nokia Lumia camera functions and adds features such as ActionShot and Smart Group Shot is expected soon.
Nokia Lumia 900: Software
We already know that the Nokia Lumia handsets are not going to get a Windows Phone 8 update, so if you are buying this phone you have to consign yourself to working within a Windows Phone 7 environment.
Bing search is heavily promoted and the search button on the handset automatically opens that page. It is also possible to pin a Google icon to the front page in two easy steps for those that prefer that site.
The version of Internet Explorer 9 Mobile installed on the Lumia 900 runs much quicker on this phone than the full version of IE9 we have tried (and failed) to run on a netbook.
The web browser includes support for HTML5 but is not without its problems. For instance, there is no Forward button included as standard on the browser and users have been bookmarking a Java script page with a forward function to work around this missing element.
The integration of Google Mail also came with some issues. Obviously the Android mobile operating system, being another Google product, is tailored to deal with Gmail. Using an Android phone we can easily sync accounts, see all our different calendars and have all of this happen with no real work needed on our part.
Adding multiple Google Calendars to the Nokia Lumia 900's main calendar function involved going into the online settings, choosing each individual calendar and then forcing the Google account to sync each time.
Microsoft does listen to users' requests and many of these issues will hopefully be sorted out in future software updates. Having said that, we really like the way the Windows Phone interface blends your different lists of contacts together.
A dedicated 'People' screen on the Windows homepage shows tiny images of friends and family you have had recent contact with.
Clicking through to that feature shows information such as their Facebook updates and the recent interactions you have had with them, including non-social networking aspects such as receiving a text or call from them.
The other thing to be aware of is that where Apple has its iTunes software, Windows has Zune.
While writing this review we needed to access the image and video files we created as a test and hoped we could plug the Lumia 900 into a PC's USB port and have it appear as a drive.
Unfortunately, Zune has to be installed if you want to be able to get files directly from the phone to your PC. It is possible to upload them to SkyDrive and then re-download them from there but that is a bit of a bind.
Nokia Lumia 900: Performance
Nokia quotes a few stats to give users a ball-park figure on the Lumia 900's battery life. Owners should expect up to eight hours talk time with up to 400 hours standby, or enjoy six and a half hours of video or six hours music playback.
This is one area where the figures do tell the right story. Any sort of activity that taxes the processor is going to run the phone down more quickly. Try playing Paradox Exit for an extended period of time and watch that battery life plummet.
Bottom line is that you will be plugging this phone in once a day if you do a decent level of browsing, connect to Wi-Fi and enjoy a little entertainment.
Nokia Lumia 900: Verdict
It is true that this is not the most high-powered smartphone you can buy. On paper it should be fairly low down your shopping list.
Where the Nokia Lumia 900 does hold a candle to its rivals, but it's the kind of candle you would find on a birthday cake - especially when you consider the power that is packed into the Samsung Galaxy S3 and the fact that by the end of the year it may well be competing with the iPhone 5.
Despite all of that, this is a good device. Ignore the spec sheet and you will be surprised by how powerful the Lumia 900 is and also how user friendly it is.
And if you have not used a Windows mobile OS for a long time you will be amazed at the change.
Score:
Overall: 8/10
Battery Life: 7/10
Design: 8/10
Performance: 7/10
Features: 9/10
Screen Quality: 8/10
Value: 8/10
The Good
Integrates contacts well
Screen and processor much better than specs suggest
The Bad
Underpowered when compared with rivals
Poor battery life