Kim Jong-un's hand-selected girl band Moranbong have called off their much-anticipated performance in Beijing amid rumours their show had to be cancelled because of controversy surrounding an affair between the North Korean leader and the group's lead singer Hyon Song-wol.
Moranbong were to give three performances at Beijing's National Centre for the Performing Arts to contribute to deepening friendship and cultural exchanges between the two countries. The all-female group was to perform for selected state officials (their core fanbase) alongside North Korea's State Merited Chorus. However the shows were cancelled amid controversy over the alleged tryst.
The Korea Times reported Moranbong was recalled to North Korea to hush rumours about Kim's relationship with Hyon, a former girlfriend, after she received too much attention in the Chinese press and on social media.
"The Moranbong band's performance caused a sensation in China so this abrupt cancellation is likely to be related to Kim's top dignity issues," Yonhap News Agency quoted Kim Yong-hyun, a professor of North Korean studies at Dongguk University, as saying.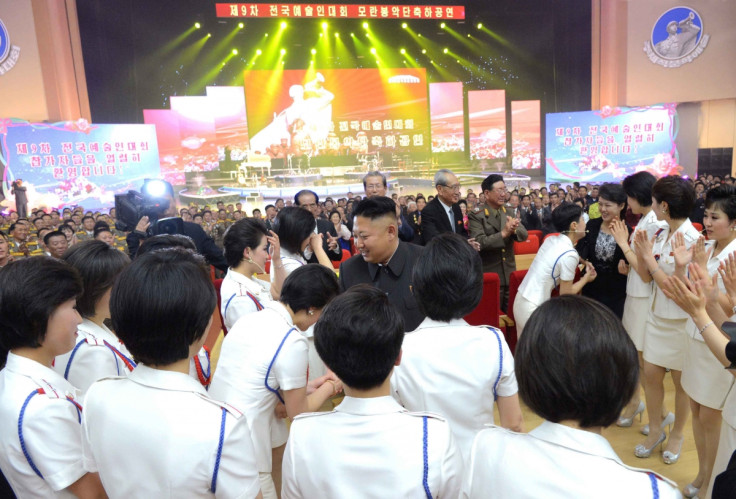 Officials in China have skimmed over the possible scandal, saying "communication problems at the working level," had caused the problem. However the cancelled 'friendship' concerts which were supposed to showcase improving relations between North Korea and China have had the opposite effect.
Moranbong's fiercely patriotic North Korean repertoire was already apparently too much for Communist China, and arguments between the band (led by Hyon) and Chinese officials had broken out over the songs.
Kim Jong-un established Moranbong in 2012, finding time to mentor his charges between seeing off his father's generals and consolidating power. The group arrived in north-east China's Liaoning Province on 10 December.
The North Korean leader has been taking a more active role in shaping society in the hermit kingdom to his personal whims and wishes. In November men in the communist country were told to copy the haircut of their leader. Women have also been instructed to emulate the hairstyle favoured by his wife Ri Sol-ju.