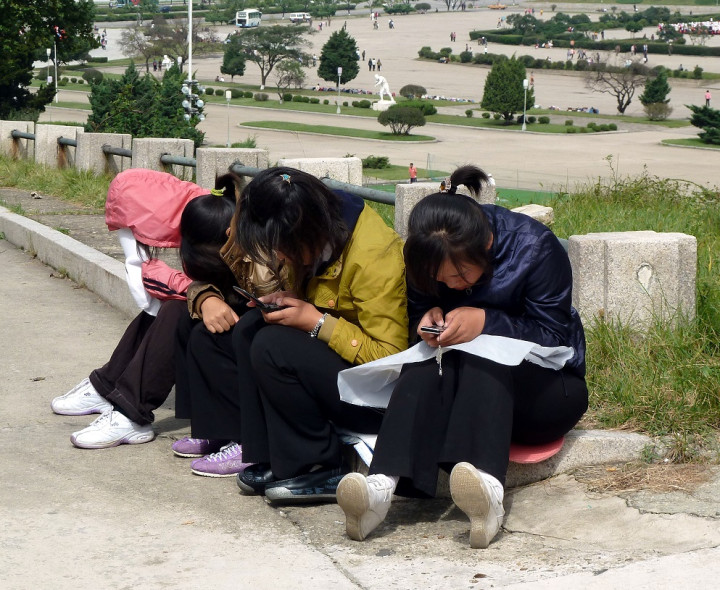 North Koreans in love are ditching engagement rings in favour of smartphones which ensure they are never more than a phone call away from their sweetheart.
According to a source inside the isolated Stalinist state, plenty of couples do not consider the traditional ring to be the best expression of their love.
In fact, so popular is the giving of mobile phones in North Korea, that owning one is a commonly understood sign that a young woman is spoken for.
But there is sharp divide, with the practice prevalent in cities but not rural communities, and among young couples rather than older ones.
A source told the Daily NK: "In small and mid-sized cities, the top-ranking present for tying the knot is no question the mobile phone. After that, come couple rings.
"Apart from women in affluent families, if you're from a poor family or single, it's hard to own a mobile phone.
"Women have so much to invest in, like household goods, cosmetics, and clothes that it's hard for them to think about getting one of those devices."
One possible reason for the value of phones within relationships is the comparatively high price of the devices in the hermit kingdom. At present, around only one in 12 citizens owns a mobile.
In North Korea, the divide between town and country is also a political matter. For example, Pyongyang is reserved for elite party members who have proved their loyalty. Disloyalty can be punished with banishment to the countryside - far from the centre of power.
What Kim Jong-un - the hereditary dictator in charge - makes of this trend is unknown, but the married 31-year-old is said to a fan of monogamy and to disapprove of promiscuity.