North Korea has opened a new nuclear facility able to double its production of enriched uranium fuel for atomic weapons, it has been reported.
South Korean newspaper Joongang Ilbo quoted an intelligence official as saying that the plant is located within the infamous Yongbyon nuclear complex, which was visited by US experts in 2010.
According to the report, Pyongyang started working on the new facility in 2012 and construction was recently completed.
"Infrared cameras used by South Korean and US intelligence authorities have detected heat that was emitted when gas centrifuges in the new plant began operating," the official said.
"We have to monitor a little longer to see if the new plant started producing [enriched uranium] at full blast but it is our assessment that it is running," the newspaper cited the source as saying.
The plant is reportedly 120m long and 15m wide, with estimate equipment of 2,000 centrifuges that, if confirmed, would double Pyongyang's ability to produce enriched uranium.
A South Korean nuclear engineer told the paper that with operations at the new facility in full flow, the North could have enough fuel to "build four to five nuclear bombs" a year.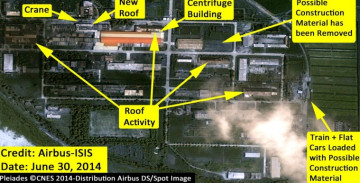 Concern over suspect activities at Yongbyon were first raised in August, as US-based Institute for Science and International Security released satellite images showing the plant's five-megawatt-electric (MWe) reactor was active and construction work was taking place at the light-water reactor (LWR).
It is unclear how advanced North Korea's nuclear programme is, making it a matter of concern for world powers.
Last year, state media announced an underground nuclear test had been conducted - the third of its kind in seven years. Japan summoned an emergency UN meeting and South Korea put its military on alert.
Kim Jong-un's regime is believed to have enough plutonium left to make up to eight bombs, but it is unclear if it possesses the technology to miniaturise a nuclear warhead and mount it on a ballistic missile.