North London witnesses grass snake invasion as population soars in Hampstead Heath
City of London Corporation is creating conditions that will increase the snake population in Hampstead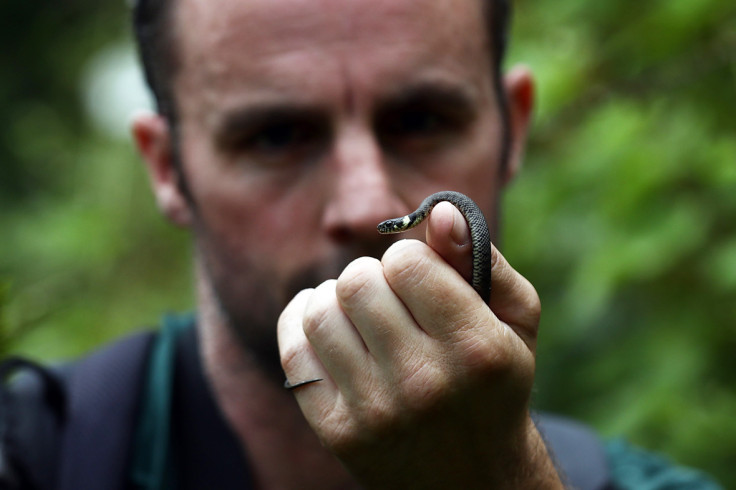 Wildlife experts have confirmed that the population of grass snakes in Hampstead Heath is steadily rising. The City of London Corporation, which runs a volunteer grass snake monitoring programme in the area, noted an increase in sightings around the bird sanctuary pond since monitoring began in 2009.
The grass snakes are non-venomous and are Britain's largest terrestrial reptiles. Over the years a number of people have reported snakes in the Hampstead area, including one incident in November 2014 when police were called to rescue a "hissing" snake from a recycling box outside a home in West Hampstead.
Adrian Brooker, ecologist for the London Corporation, said: "Hampstead Heath is the closest green space to central London with a breeding population of grass snakes. It is a good indicator of a flourishing aquatic habitat because they need a healthy population of amphibians like frogs, toads and newts on which to survive."
Brooker and his team are now creating small ponds and winter refuges to encourage a growth in Hampstead's snake population. The grass snakes mate between March and June, and there were at least 30 breeding pairs in the area in 2010.
The City of London Corporation protects 18 green spaces in London and the south-east region. Its website allows people in Hampstead Heath to report sightings of snakes and other reptiles in the area, which will help it with its work on conserving the species.
In June, workers at a north London tile shop were left shocked when they discovered a 3ft-long snake in their building in Wembley. The black milk snake, not native to the UK, is likely to have been someone's escaped pet as they are from Central America.
Animal collection officer, Nathalie Ditchfield, told the Evening Standard at the time: "I could see straight away that he was a black milk snake, which is not a harmful snake. He seemed to be used to people and was happy to be handled."
© Copyright IBTimes 2023. All rights reserved.