Think of surfing, and you probably picture bronzed athletes under glorious sunshine riding turquoise waves on to pristine white beaches. You probably don't think of the Arctic Circle, although the beaches here are certainly white. More than a thousand surfers come to the Arctic waters in northern Norway every year, even during winter, when the conditions provide extreme sports enthusiasts with a unique experience.
AFP photojournalist Olivier Morin spent 10 days photographing surfers in the freezing water off the Lofoten archipelago, and was rewarded with several sightings of the northern lights (aurora borealis) as well as some of the area's unique wildlife.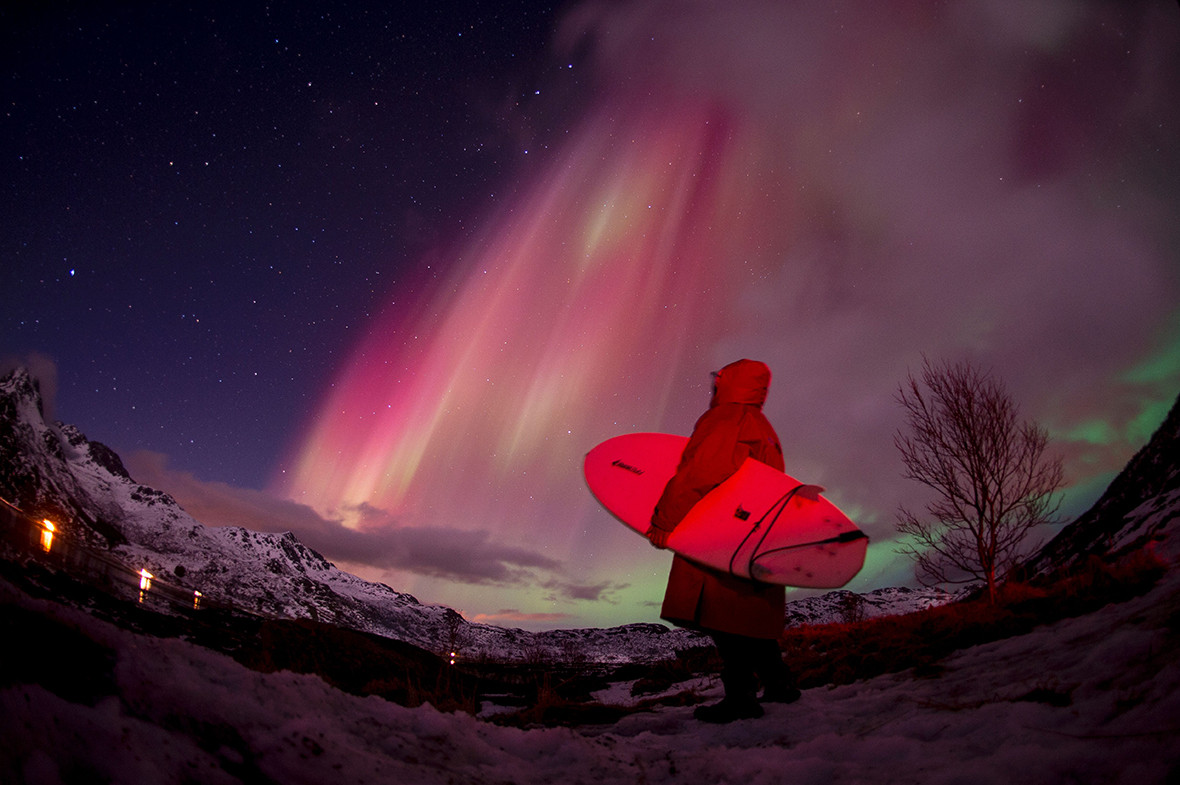 Unstad Bay has some of the most stunning landscapes in Scandinavia – and some of the warmest waters, too, as the Gulf Stream keeps the sea clear of ice all year round. It's not exactly tropical, however – the sea temperature in winter is around six degrees Celsius, while the air temperature hovers around zero.
Brave surfers don full body suits, five to seven millimetres thick, with hoods, boots and gloves. "Being in the Arctic is a surfing adventure, a completely different experience from anywhere else in the world. Surfing here is more of a mission. With the cold, you can't just put on a suit and do a bit of surfing, you have to be fully prepared," said Tommy Olsen, owner of Unstad Arctic Surf.
This unusual destination attracts Scandinavians and surfing enthusiasts – amateurs and professionals – from around the world. The location allows people to ski and surf in the same day. Instead of encountering sharks like in traditional tropical waters, the surfers in Lofoten are more likely to see seals and killer whales, and – if they are lucky – maybe even the northern lights.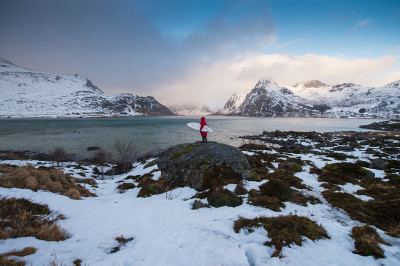 In his blog about the experience, Morin says he had visited Lofoten once before in April 2015, but the snow had almost all melted. "I vowed to return when it was still winter and the landscape around me was white," the photographer said. He spent several hours a day in the icy sea, carrying a camera protected in a waterproof housing, until cramps forced him out.
Morin saw his first aurora borealis. Although he had lived in Scandinavia for two years, he had never had the chance to observe this phenomenon. "And here I see three in a row," he said. "A magical show, euphoric, as if someone had turned on the light in the night."