An amateur Norwegian fisherman was gutting a large cod he had caught when he found a lump in its belly … and pulled out a large orange vibrator.
Bjorn Frilund, 64, said that the discovery he made fishing near the town of Eidsbygda, western Norway, took him by surprise.
"I was astonished," he told The Local. "It was totally unexpected. I had never seen anything like this before."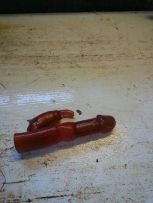 He said that the fish had perhaps mistaken the sex toy for a squid or octopus.
"Fish eat all kinds of different things," he told The Local. "And the dildo looks like what the fish eat. We have a kind of multi-coloured octopus in Norway, maybe the cod thought this was one of these and ate it."
He speculated that the device may have been thrown into the sea by a "frustrated woman on a cruise" in the Barents Sea. The sex toy appears to have been broken before it was disposed of, since no batteries were found in the unfortunate cod's stomach.
"The chances of winning the lottery are probably greater," he said.