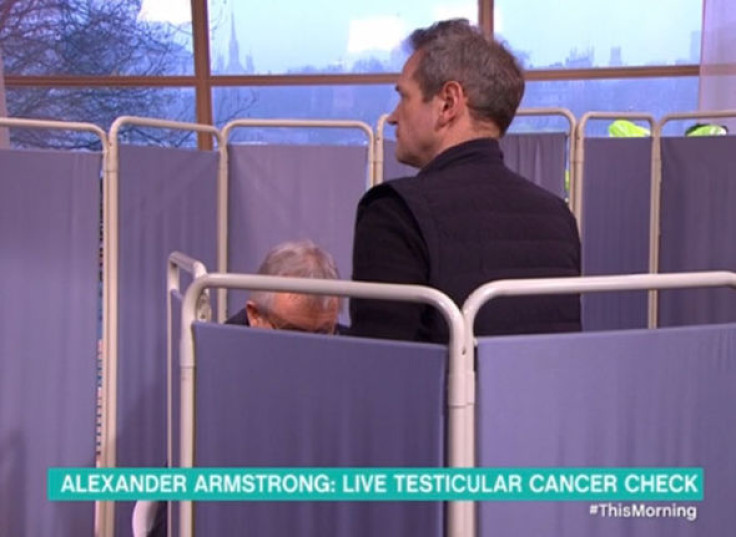 Pointless star Alexander Armstrong made viewers blush with his appearance on This Morning today (10 February) as he got his testicles checked live on air.
The television personality graced the morning programme in a bid to urge men to get themselves checked for testicular cancer, proving how easy it is to see if all is well downstairs.
The 46-year-old host of BBC game show Pointless – who is involved in a Full Monty campaign with Ashley Banjo in a bid to encourage male folk to visit their GP – wanted viewers to see how quick it was to get a thorough check-up.
Leading by example, somewhat, Armstrong went as far as to get his testicles checked live on the show behind a screen by This Morning's resident GP, Chris Steele.
He pulled his trousers down before letting the doctor give him a full check-up, with eagle-eyed viewers quickly spotting something a little bizarre.
Fans took to Twitter to point out that the GP failed to put on gloves for the examination, and checked Armstrong's testicles with his bare hands.
One viewer posted on the social media sharing site: "The doctor on @ThisMorning just gave Alexander Armstrong a testicular examination, Without any gloves!!"
While another put: "Why is the Doctor guy not wearing any gloves while he's feeling Alexanders balls for the cancer #ThisMorning." A third added: "#thismorning how come dr chris never wore gloves yuk."
Before the intrusive check-up, Armstrong sat alongside Diversity star Banjo – as they are teaming up to find stars to recreate The Full Monty in order to raise awareness of cancer in men.
An ITV representative stated: "This Morning have shown live testicular examinations many times on the show to help raise awareness and give guidance to viewers on how to do these checks at home. These examinations are always carried out in the same way each time and in the same way men at home would do."
This Morning airs weekdays on ITV at 10.30am.