The new US President Donald Trump and his wife Melania have enjoyed their first dance since the Republican took office.
The couple danced to Frank Sinatra's My Way at the Liberty Inaugural Ball, Trump taking to the stage to tell his supporters 'we did it'.
The president donned a tuxedo, while the first lady wore a dress she co-created with French designer Hervé Pierre, as they spun around the dance floor. They were joined by Vice President Mike Pence and his wife Karen after the first verse of the song.
Trump, who was also joined on stage by his children and their spouses as the dancing continued, told his supporters: "Well, we did it. We did it. We began this journey and they said we, we, and me, we didn't have a chance but we knew we were going to win and we won," The Daily Mail reported.
The Liberty Ball is one of three celebratory inauguration balls they will attend over the course of the evening, having arrived there at 9.30pm.
It was a less star-studded event than the inaugural balls attended by Barack Obama and his wife Michelle in 2009, when they shared their first dance at the Neighbourhood Ball to Etta James' At Last, performed by Beyoncé.
Also performing at the ball celebrating Obama were Sting, Stevie Wonder, Mary J Blige and Shakira, among others, while Trump has found it difficult to persuade well-known musicians to perform at inauguration events.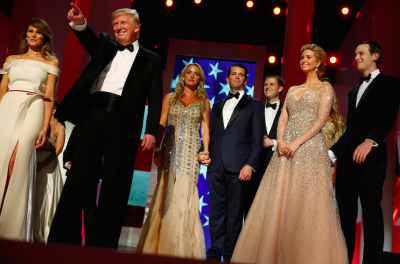 Of the three inaugural balls, the Liberty Ball and the Freedom Ball are both being attended by people who have donated money to the inauguration or purchased tickets, while the ball 'A Salute to our Armed Services' is an invitation-only event that will be attended by active and former members of the military.
The Trumps were reportedly still at the White House at 8.30pm, having arrived back after the parade at 7.20pm, when President Trump sat in the Oval Office and signed documents before getting ready for the evening's events, The Washington Post reported.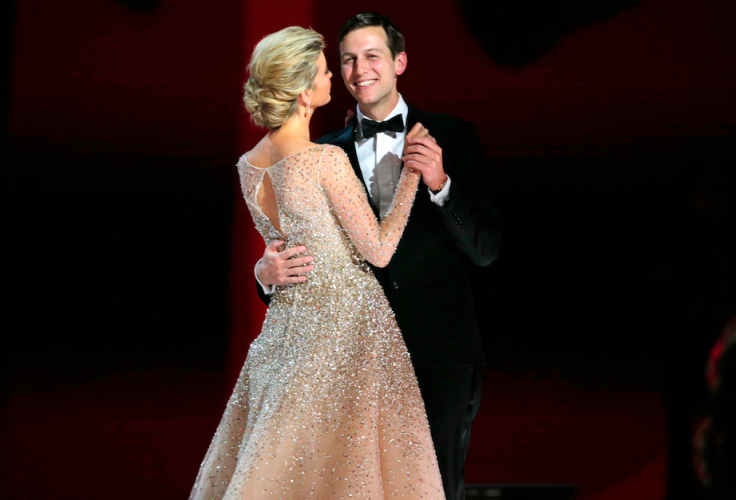 Undeterred by Trump's late arrival, entertainment at the balls kicked off, with performances by The Rockettes, despite their turbulent road to the inaugural ball, The Piano Guys, and jazz singer Erin Boheme, among others.
Trump's attendance at just three balls is lower than previous presidents, who have used their inauguration to throw huge celebrations. In 2009, Barack and Michelle Obama attended 10 balls, although they only went to two balls following the ceremony in 2013.