Notting Hill Carnival: Four people stabbed during first day of festivities
One man is in a critical condition after a spate of stabbings that have marred the family event.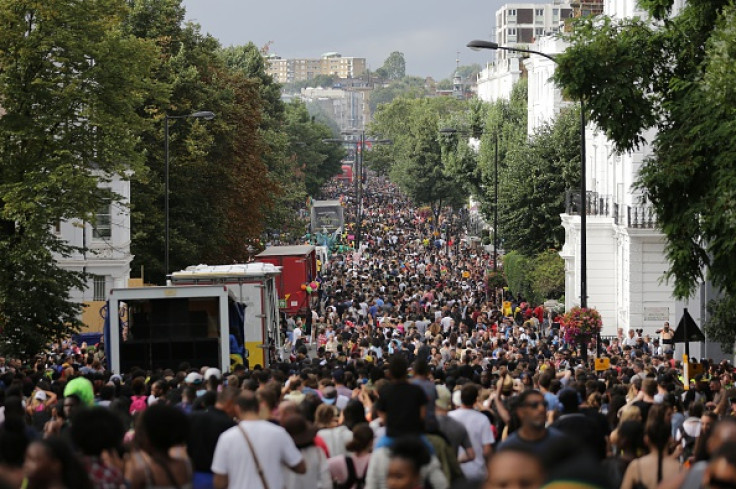 A man is fighting for his life after four people were reportedly stabbed during the first day of the Notting Hill Carnival celebrations in London on Sunday (28 August). One man is in a critical condition while three other victims, two of whom are male, were also taken to hospital.
Emergency services were called to Wornington Road in Kensington and Chelsea at 4.25pm GMT following reports of a knife attack. Minutes later, police were called to another stabbing on Portobello Road. Less than an hour later, two men were stabbed on Ladbroke Grove.
One man was arrested on suspicion of causing grievous bodily harm.
More than a million people turned out for Europe's biggest street carnival on Sunday (28 August). Police said they had arrested 47 people by 6.30pm - two for alleged sex offences, 37 drugs offences, 13 counts of possession of offensive weapons and alleged theft and public disorder according to Sky News.
345 people were treated by ambulance workers, with 43 of them taken to hospital.
In a crackdown on crime it was announced that police officers with special skills for recognising the faces of offenders would be monitoring the carnival from inside a CCTV control room.
It was earlier reported that SAS snipers have been practising stopping trucks using armour-piercing bullets in case Islamic State (Isis) extremists attempt a Nice-style attack on Notting Hill Carnival. Although no specific plot has been identified, revellers have been advised to remain vigilant while enjoying the carnival this weekend (28-29 August).
Earlier, revellers took to the streets of Notting Hill in a colourful display for the annual street party, which marks its 50th anniversary on Sunday and Bank Holiday Monday.
© Copyright IBTimes 2023. All rights reserved.