A US- and China-based gold plating company is already offering its well-heeled customers the chance to buy a £1m iPhone 7, made from gold and covered in diamonds, before Apple has even announced the phone exists.
The company, called Brikk, offers a range of gold Apple handsets from the future. and will cater for both the 4.7in iPhone 7 and larger 5.5in iPhone 7 Plus.
Prices for what it calls the Lux iPhone 7 starts at $4,995 (£3,800) for the Standard Collection, and run all the way up to the Bespoke Collection Imperial, which costs a staggering $1.3m (£983,000). That is not a typing error.
Deposits of 10% can be placed now, with deliveries expected to start in mid- to late-October.
Brikk also sells a matching Apple Watch, covered in gold and diamonds, and priced up to $114,995. Its most expensive iPhone 6S Plus costs 'just' $200,000.
Meanwhile, London-based Goldgenie is offering its own range of gold-plated iPhone 7s. Goldgenie has a reputation for gold plating just about anything, from smartphones, watches and tablets, to desk ornaments and even bicycles. The company's latest range includes 12 variants of the upcoming iPhone 7 and iPhone 7 Plus. They all feature gold plating, with some of the more expensive options boasting platinum, rose gold and Swarovski crystals.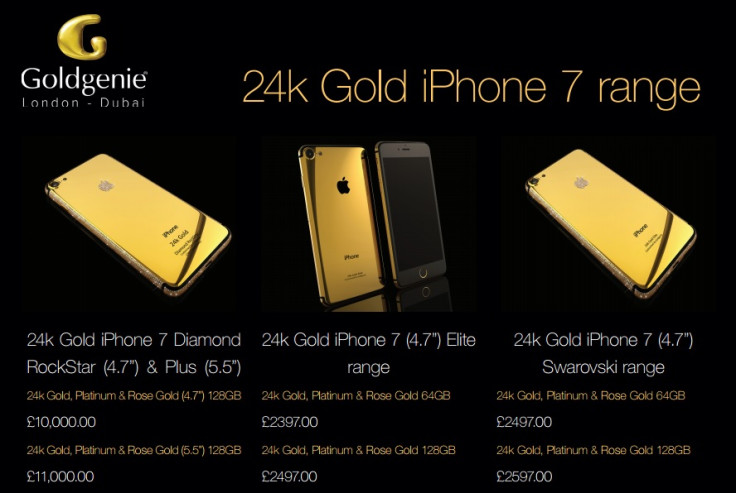 Prices start at £2,397 for the 'Elite' iPhone 7 with 64GB of storage and run up to £11,000 for the 'RockStar' iPhone 7 Plus, which has 128GB of storage and diamonds embedded around the edge of the handset and in the Apple logo on its rear. The phones go on sale on 25 August and require a 50% upfront deposit to secure.
Despite all this, Apple is not expected to even announce the iPhone 7 at an event tipped to take place on 7 September. The phone will likely not go on sale in the UK until around 16 September, with initial orders limited to two per customer.
Suddenly the £550 to £750 Apple is expected to charge for the iPhone 7 doesn't seem so bad.