The British Army has training bases all over the world, not least because it is important that our troops are able to train in different climates and conditions in preparation for operational tours. One of those training bases is located in Canada, near Calgary, and I was lucky to be there for a few days representing my fellow MPs as a member of the Armed Forces Parliamentary Scheme.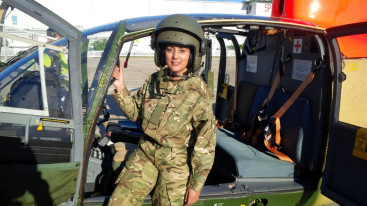 The British Army Training Unit Suffield (BATUS) is a unique asset for the British Army. Nowhere in the UK can you train an armoured battle group without restriction, and BATUS's size enables those battle groups to train more fully across all aspects of combat.
I spent time hearing and learning from soldiers who have had multiple operational tours of Iraq and Afghanistan, and was able to understand how their training prepares them for engagement in conflict, as well as the physical and emotional aftermath of working in conflict zones.
I met women at all levels of service, and was keen to talk about the role of women in the armed forces and the potential for them to serve on the frontline. I was pleased both the men and women I spoke to agreed that, if a woman is physically able, she should be allowed to take her place alongside her male colleagues. This is a discussion we need to have further in the UK.
Lack of certainty
The trip also allowed me to meet the spouses of our service personnel. Those who are posted to BATUS are sent there for two years, often without choice or warning, and as a spouse this can mean having to move your entire family to pastures new in order to support your partner. One spouse I spoke to had been told their family would be moving a couple of hours down the road in the UK, only to unexpectedly end up on the other side of the world. Lack of certainty, and the impact on raising a family, is often something we don't think about.
Service personnel at BATUS are, of course, only ever training but the trepidation of knowing that one day your partner may be called up for service overseas, and may not return, is a huge pressure. The pressures of conflict itself are enormous, and a partner is often also the first to notice a change in their other half's mental health.
Even though a lot is known about the mental health of service personnel, there is still a gap to be filled in the provision of consistent support throughout their career. Just as our service personnel must shoulder the responsibility of difficult decisions taken by our government, so it must shoulder the responsibility of providing pastoral care and support to our service personnel.
---
Nus Ghani is Member of Parliament for Wealden, East Sussex, for the Conservative Party. You can follow her on Twitter @Nus_Ghani or go to www.nusghani.org.uk.
---