How many ice creams does it take to change a person's attitude towards politicians? As it turns out, none at all. I wrote last time about my preparations for a mobile surgery tour of Wealden in a "trusty van". I can now reveal, and some might go so far as to say that this is a bit of a "scoop", that my van was not just any van, but a vintage ice cream van.
Sadly, bribery rules prevented me from actually giving out any ice creams to my constituents, but it seems that sometimes it really is the thought that counts. I was overwhelmed by the reaction I received, from people who had previously thought of politicians as being frosty and inaccessible and had given them the cold shoulder as a result. As a campaigner who firmly believes in retail politics, this is the best part of my job, face-to-face conversations on any issue and working with and for my communities.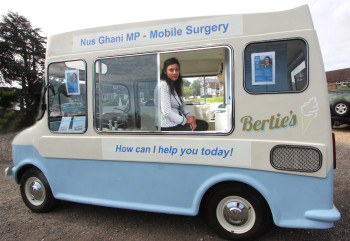 Some of my colleagues had suggested that I might be skating on thin ice by so willingly offering myself up to the good people of Wealden, but the conversations I had with those who didn't get cold feet were genuine, non-trivial and in a lot of cases came right from the heart. Each case is confidential between the MP and constituent and in some cases already involves a number of local and national government agencies and each case is unique. In total, I held surgeries with over a hundred constituents over two days, at 13 stops stretching from the top to the bottom of Wealden.
You may be wondering: Why over the summer recess did I not give my constituents a break from politics? Well, when I was campaigning to become Wealden's MP I promised to be accountable. And when I became Wealden's MP I pledged to channel the philosophy of Winnie the Pooh, our most famous resident, who said that: "You can't stay in your corner of the forest waiting for others to come to you. You have to go to them sometimes."
That's why.
---
Nus Ghani is Member of Parliament for Wealden, East Sussex, for the Conservative Party. You can follow her on Twitter @Nus_Ghani or go to www.nusghani.org.uk.
---