Stafford's cows have this week taken advantage of an even more pronounced silly season than usual, as politicians, journalists and campaigners retreat to their pastures having been cowed into exhaustion by the frenetic election months.
Grazing in Stafford's supermarkets in opposition to the price farmers are paid for the milk they supply was an incredibly effective campaigning technique which, puns aside, has highlighted an extremely serious issue.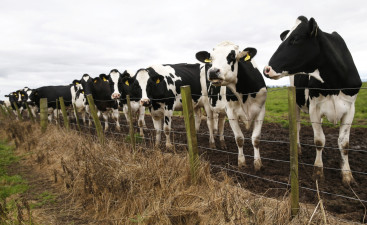 Why, when you think about it, do we think it reasonable to pay more for bottled water than for milk? Why are we so willing to cheat our farmers out of the income they deserve and work hard for just because the system means they are price takers? This puts the viability of their businesses in danger and, as an MP from a rural constituency, is an issue I am particularly concerned out.
In Wealden, a few of our supermarkets have signed up to support this campaign and in the run-up to Christmas, I will be seeking to get all of them on board. Farmers are not just a resource there for us to exploit; they are entrepreneurs on whom we depend and it is our responsibility to behave in a way that makes their businesses sustainable.
Meanwhile...
I am taking advantage of the silly season. MPs are known for their surgeries, where constituents can come to them with concerns, queries or problems that need solving. This summer, for the people of Wealden, there is no escape from their local MP. I have commandeered a trusty van in which to zoom from village to village and remind people that I am still human. I hope that as many Wealden residents as possible will come and talk to me, so let's see who takes the bait!
Finally, I closed my last column by saying that Labour were floundering in despair. Apart from the fact that many of my Conservative-leaning friends have signed up to vote in the leadership election, readers will note that there is no new update to report.
---
Nus Ghani is Member of Parliament for Wealden, East Sussex, for the Conservative Party. You can follow her on Twitter @Nus_Ghani or go to www.nusghani.org.uk.
---