I'm writing this on the train home from Manchester, having spent the past few days at this year's Conservative Party Conference. Travelling south from Manchester, one of our most exciting and invigorating cities, takes you past another great cultural and economic centre.
Birmingham, where I grew up and where, five years ago, I stood as the Conservative candidate for the Birmingham Ladywood constituency, is the place where my journey to Wealden and to Parliament began, because it is where I saw and experienced things that later acted as my motivation for entering politics.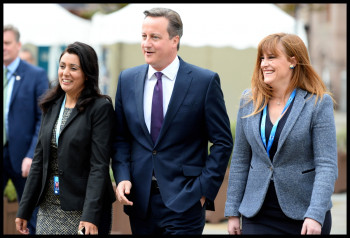 Things such as children being led to believe that their chances of getting on in life were non-existent and young people being forced to accept, without challenge, the fact that the state would inevitably be managing their life's course.
It's a testament to Britain, but also to today's Conservative Party, that someone brought up in those circumstances is able to make the journey from inner-city Birmingham to speaking from the podium at the conference of the party of government. And that party is one that can now, unlike any other, be truly proud to represent Britain.
Reaction to the prime minister's speech yesterday has seen commentators label him as either brave or mad. Brave for taking his party away from its traditional "centre-right" position on the political spectrum, mad for taking it towards the centre or even, for some observers, further than that.
But it's what you do when you govern for the country and not just for your party. It's what a party does when it isn't just unthinkingly attached to ideology or an idealistic view of how the world should be, but is instead guided by an overarching respect for the views of the British people and motivated by a responsibility to provide stable, efficient and just government in line with those views.
With 11,500 delegates crammed together, party conferences are bizarre events and politics is a bizarre theatre. When I wasn't being pelted with plastic balls by protestors or being namechecked by the prime minister in his speech, for example, I was speaking about the things the Conservative Party is doing for working people or meeting representatives from Barnardo's to discuss what we can do to further protect young people. Bizarre it may be, but uneventful, demoralising and pointless it most definitely is not.
---
Nus Ghani is Member of Parliament for Wealden, East Sussex, for the Conservative Party. You can follow her on Twitter @Nus_Ghani or go to www.nusghani.org.uk.
---