Hackers supporting the Islamic State posted threats to Michelle Obama and her daughters after a cyber attack on Newsweek's Twitter account.
A group called the "CyberCaliphate" has claimed responsibility for hacking into the social media feed.
The hackers sent out a menacing tweet: "Bloody Valentine's Day #MichelleObama! We're watching you, you girls and your husband! #CyberCaliphate". The FBI is now investigating the hack.
The posts were deleted 10 minutes later when the hack was discovered. Images were also posted, purportedly confidential Pentagon-related documents and also from the Defense Cyber Investigations Training Academy.
International Business Times, the owner of Newsweek, confirmed their account had been hacked for 14 minutes.
"We can confirm that Newsweek's Twitter account was hacked this morning, and have since regained control of the account," Newsweek managing editor Kira Bindrim said in a statement.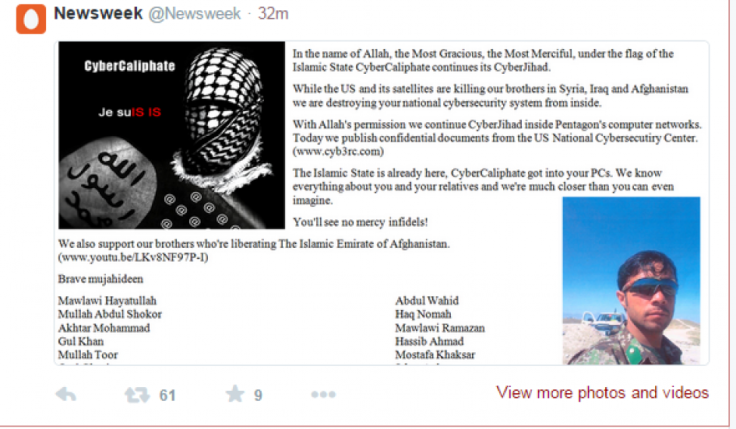 "We apologize to our readers for anything offensive that might have been sent from our account during that period, and are working to strengthen our newsroom security measures going forward."
The CyberCaliphate group claim to be affiliated with the Islamic State (ISIS) and has previously hacked @Centcom, the Twitter account of the United States Central Command, and also the official Twitter account of Taylor Swift.
During the hack, the @Newsweek account's profile picture and banner were swapped to images of a masked man and the Black Standard flag, together with a message "Je su IS IS." Messages were also posted praising "cyber jihad."
The hackers also posted a message condemning the United States for its actions in the Muslim world.
"While the U.S. and its satellites are killing our brothers in Syria, Iraq and Afghanistan, we are destroying your national cyber security system from inside."