Obama: Trump committed to Nato alliance
'There is no weakening of resolve' when it comes to a maintaining a strong US-Nato relationship, said Obama.
The US will continue to be an "indispensible nation when it comes to maintaining order" around the world, President Barack Obama has said in his press conference since last week's election.
Obama also sought to reassure the US' allies that Donald Trump is committed to Nato. During the US election campaign, the President-elect branded the organisation "obsolete" and questioned whether members were paying their fair share.
As Obama prepares for the last scheduled foreign trip of his presidency, he said Trump suggested he would not be scrapping the decades-old alliance during their meeting last week.
"In my conversations with the President-elect, he expressed a great interest in maintaining our core strategic relationships," Obama said, adding that he had a message from Trump to give to global leaders he will meet this week. "One of the messages I will be able to deliver is his commitment to Nato and the transatlantic alliance."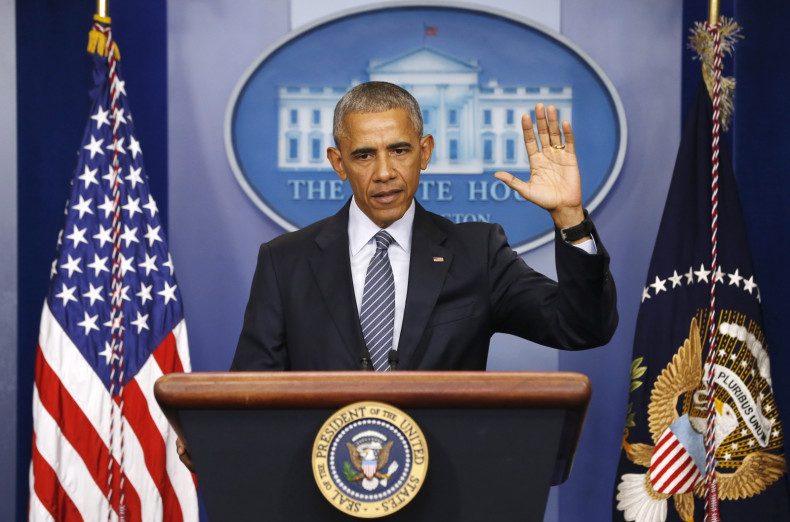 He added: "I think that's one of the most important functions I can serve at this stage during this trip is to let them know that there is no weakening of resolve when it comes to America's commitment to maintaining a strong and robust Nato relationship and a recognition that those alliances aren't just good for Europe, they're good for the United States."
Obama and Trump have endured a rocky relationship, with the former claiming the Republican is "temperamentally unfit to be commander-in-chief". Trump was one of the leading boosters of the "birther" movement questioning, whether Obama was born in the US.
When asked about his successor's disposition, Obama said: "There are going to be certain elements of his temperament that will not serve him well unless he recognises them and corrects them."
But in an attempt to allay concerns about Trump from foreign leaders, Obama pointed out that foreign policies go beyond leaders. "The influence and the work that we have is the result not just of the president," he said.
"It is the result of countless interactions and arrangements and relationships between our military and other militaries and our diplomats and other diplomats, and intelligence officers and development workers. And there is enormous continuity beneath the day-to-day news that makes us that indispensable nation when it comes to maintaining order and promoting prosperity around the world. That will continue."