Anonymous-affiliated activists who occupied Google's Mountain View headquarters in Silicon Valley on Tuesday were arrested for trespassing by police.
The protestors, who called their action Occupy Google, claim the search giant is not doing enough to protect net neutrality despite the search giant coming out in defence of the cause already.
The group is calling on Google to black out its entire website on 10 July as part of a global protest at the recent proposals by the Federal Communications Commission (FCC) which would allow internet service providers in the US to create slow and fast lanes on the internet, effectively promoting access to certain services while censoring access to others.
While exact numbers of arrests have yet to be confirmed by the Mountain View police department, a video (below) showing the police arresting protestors has been uploaded by Twitter user and Anonymous member @punkboyinsf.
Arrests
The video shows the police arresting the protestors for trespassing with the official Twitter account of the Occupy Google action saying that "over 10 people presumed to be in custody".
The action lasted for 12 hours with the protestors wearing blue t-shirts reading "Defend Internet Freedom" and raising banners saying "Protect Net Neutrality".
The FCC is welcoming comments on its proposals until 15 July and so the group want to organise a Sopa/Pipa style online blackout to highlight the issue, with the group calling on Google to add a button to its website connecting users with information about the proposals and an online petition.
"We are committed to occupying the Google Headquarters until the company gets involved in honest dialogue on net neutrality, and until real action is taken to maintain a free and open internet," the group said on its website.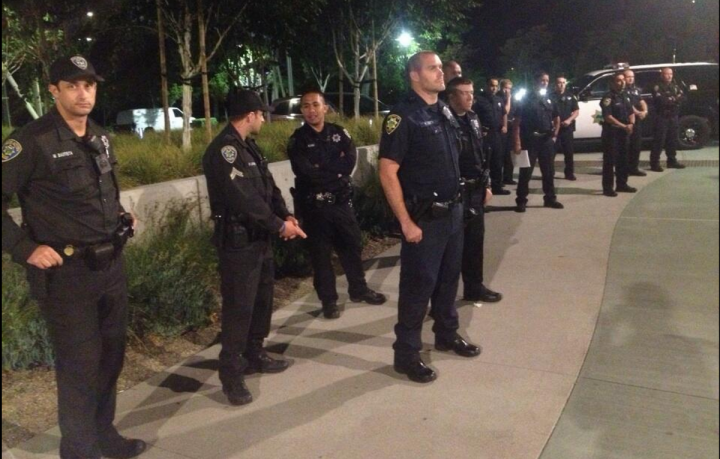 Star Wars
Google is currently gearing up for its annual developer conference in San Francisco on Wednesday - Google I/O - and a spokesperson said the company had nothing to say on the Occupy Google action at the moment.
As well as the potential threat of a continued occupation of its headquarters in Mountain View, the company is also facing a stranger type of protest at the Google I/O conference on Wednesday.
A group of protestors are planning to dress up as Star Wars characters to protest at Google and the impact it and the rest of the technology industry is having on the city of San Francisco.
The same protestors have previously targeted buses put on by Google to transport workers to its headquarters some 35 miles outside the city, with the group claiming blue chip technology firms such as Facebook, Twitter and Google were to blame for rents going up in the city by recruiting thousands of employees.