Ohio Governor John Kasich cannot 'arbitrarily suspend' open carry gun laws ahead of RNC convention
Kasich faced calls to temporarily restrict open carry gun laws following deadly Baton Rouge shooting.
Ohio Governor John Kasich has said his hands are tied in response to calls from Cleveland's largest police union to temporarily restrict state law allowing people to openly carry guns this week. The request followed the deadly shooting of three police officers in Baton Rouge, Louisiana on 17 July.
The 2016 Republican National Convention (RNC) is set to begin at the Quicken Loans Arena on 18 July and concerns have been heightened over security and clashes at the event. Presumptive GOP nominee Donald Trump is set to formally accept the nomination.
Speaking to CNN, the president of Cleveland Police Patrolmen's Association, Steve Loomis said: "We are sending a letter to Governor Kasich requesting assistance from him. He could very easily do some kind of executive order or something – I don't care if it's constitutional or not at this point."
He added: "They can fight about it after the RNC or they can lift it after the RNC, but I want him to absolutely outlaw open-carry in Cuyahoga County until this RNC is over."
In accordance with Ohio state law, licensed firearm owners can display their weapons in public. Aside from a "secure zone" around the RNC venue, people can carry guns permitted by the state, including in the 1.7 mile "event zone".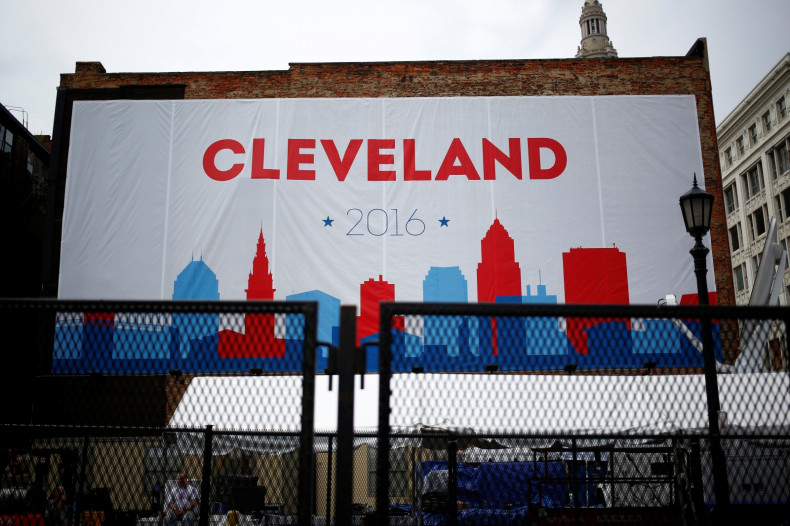 Responding to calls to suspend the state's law, Kasich's spokeswoman, Emmalee Kalmbach said: "Law enforcement is a noble, essential calling and we all grieve that we've again seen attacks on officers. Ohio governors do not have the power to arbitrarily suspend federal and state constitutional rights or state laws as suggested."
She added: "The bonds between our communities and police must be reset and rebuilt -- as we're doing in Ohio -- so our communities and officers can both be safe. Everyone has an important role to play in that renewal."