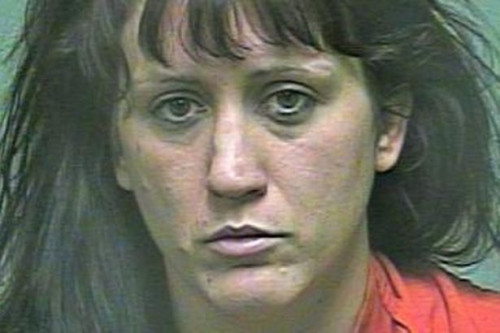 An Oklahoma woman was allegedly caught trying to smuggle a marijuana pipe into jail - inside her vagina.
Ericka Marie Danna, 25, was caught with the contraband following her arrest for disturbing the peace outside of a home in Oklahoma City.
According to KFOR-TV, when she was being processed at the Oklahoma County Jail, officers discovered the pipe inside her body cavity.
Law enforcement said the pipe smelled like marijuana.
She now faces charges of disturbing the peace and attempting to bring contraband into the jail.
Danna remained behind bars on $5,000 bail.
In March, Christie Dawn Harris, was sentenced to 25 years in prison after police officers in Oklahoma found a loaded gun inside her vagina during a drugs bust.
The 28-year-old was arrested along with a second suspect, Jennifer Delancy, after a drug dog search of their vehicle. Crystal meth, drug paraphernalia, a pistol and a loaded clip of bullets were found inside the vehicle.
In June, Claudia Ibarra was arrested on suspicion of smuggling drugs from Mexico into the US after customs officers found a one-pound package of methamphetamine in her privates.
The package of was so big that it had to be surgically removed from her pelvis.