Arrests at the Old Firm derby fell to their lowest level since 2011, when just one football fan was arrested at Celtic Park on Saturday. A 22-year-old man was detained inside the ground for an alleged alcohol-related offence as Celtic eased to a 5-1 victory over city rivals Rangers thanks to a Moussa Dembele hat-trick.
It was the lowest number of arrests since January 2011, when there were none during the game at Ibrox. The single arrest is far less than the 23 made at Parkhead in February 2011 when Celtic again ran out winners, this time 3-0. Police warned fans to be on best behaviour after previous matches were marred by violence and sectarian chanting.
The derby was not played in the Scottish Premier League for almost four years after Rangers were made to start over in the bottom tier after entering administration.
Chief Superintendent Brian McInulty said: "I would like to thank all the supporters who came to enjoy the match today in a safe and responsible manner. You listened to what we asked and behaved accordingly which has helped our officers ensure the safety of everyone attending the venue. All fans came out to enjoy the match and soak up the atmosphere and this is what football should be all about."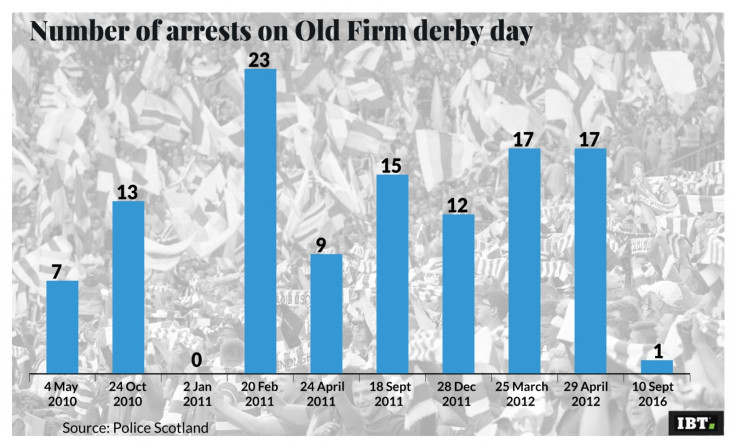 Arrests may have been low, but there was destruction caused to toilets in the away end. Photos showed sinks, toilet doors and ceiling tiles had been torn away, with lights and metal strips left dangling. Rangers have also condemned Celtic's Green Brigade section of fans after two effigies were 'hung' from a stand and a banner that read "Know your place hun scum".
"It was a vile and insensitive stunt which, understandably, has attracted widespread condemnation," Rangers said. "This was a new low but there were other unacceptable images which were also deeply offensive to Rangers supporters."