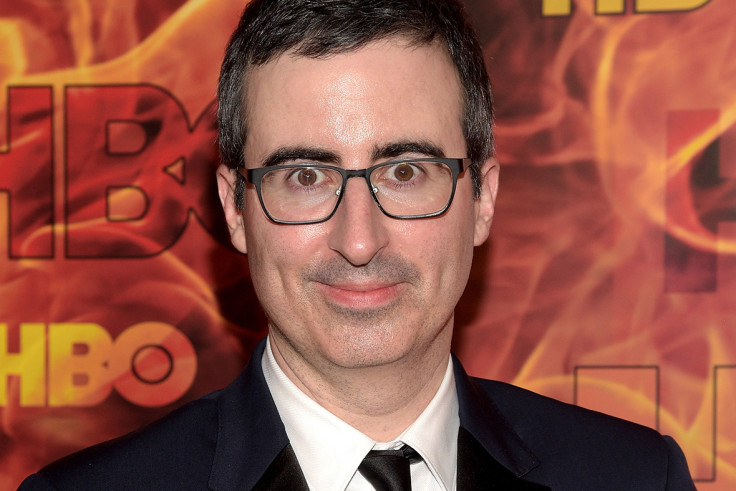 When news first hit that Donald Trump was planning to run for president back in June 2015, John Oliver did not give it much attention and even went on to tell The Late Show host Stephen Colbert that he "couldn't give less of a s**t" about the nominee and made it a point not to discuss the billionaire on his own segment on HBO.
Now, 18 months later, Trump is the Republican Party's candidate, making his way to the finish line alongside Democratic Party's Hillary Clinton. As this election race picked up momentum, Oliver had no choice but to talk about Trump, and he has not been kind.
In his last episode on 6 November, just two days before the elections, the British-born host kept with his tradition of introducing the subject of the candidate with a hilariously mean description. Oliver earned loud cheers from the audience when he called Trump "the human equivalent of a clear plastic bag filled with cheeseburgers and Confederate flag belt buckles".
Check out some of the other times the host has mocked Donald Trump and the 2016 elections in general.
'Make Donald Drumph again'
A biographer claimed that Donald Trump's ancestral name was Drumph and Oliver decided to start a campaign to "make Donald Drumph again" by trademarking the name and selling hats with the slogan on them. The hats were such a success that even Jay Z reportedly asked for one.
"Donald Trump is America's back mole: it may have seemed harmless a year ago, but now that it's gotten frighteningly bigger, it is no longer wise to ignore it," said Oliver.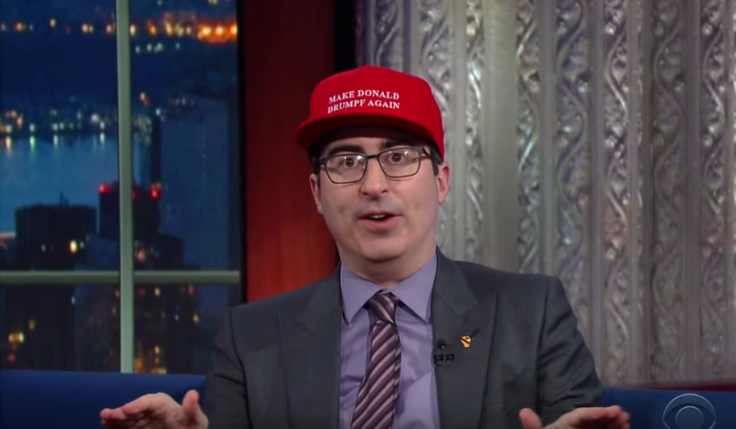 Emmy for Trump
During the third presidential debate, Trump said his reality contest The Apprentice deserved an Emmy, so on his talk show the following week, Oliver offered his own award, which he won this year (2016) to the New York real estate mogul if he lost the elections.
"Of course he wants an Emmy! It's a woman, it's gold, and it's proportionate to his tiny hands," he teased. "It's basically Trump's ideal mate."
Attack on Khizr Khan's speech
Khizr Khan, the father of a soldier who was killed in action, made a speech at the DNC with his wife by his side. Trump decided to pick on the fact that the woman stayed silent during the event, and presumed she was "not allowed" to speak when in fact it was because she was too emotional.
"We may be on the brink of electing such a damaged, sociopathic narcissist, that the simple presidential duty of comforting the families of fallen soldiers may actually be beyond his capabilities," Oliver said in reaction adding, "and I genuinely did not think that was a part of the job that someone could be bad at."
Oliver has also described Trump as "an old piece of luggage covered in cheese whiz" and said that "Donald Trump views the truth the way this lemur views the Supreme Court vacancy".
He also reacted to President Obama's comments that Trump doesn't "know much" about "the world generally".
"President Obama is basically implying there that you could fill a book with the things Donald Trump doesn't know," said Oliver. "That book being the encyclopedia."
As for comparing the two candidates, the talk show host went on a breathless rant describing the competitors as: "The first female presidential nominee versus the human embodiment of every backward, condescending, Mad Men-esque, boys' club attitude that has ever existed rolled into one giant salivating, d**k size-referencing, p***y-grabbing warthog in a red power tie."