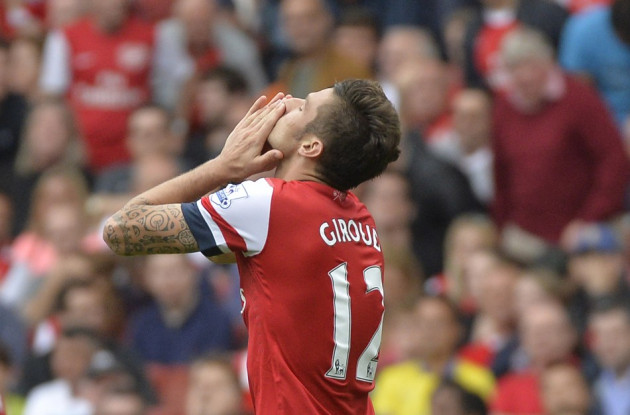 Arsenal striker Olivier Giroud has encouraged the club to bolster their squad with another striker before the transfer window closes.
The France international was on the mark to score his first goal of the season on the opening weekend of the new campaign on Saturday but could do little to stop Aston Villa claiming a well-deserved 3-1 victory at the Emirates.
The Gunners' opening day defeat earned Arsene Wenger the wrath of frustrated supporters who are eager to see the club invest in new signings having seen the club make just one signing this summer in 20-year-old Yaya Sanogo, who joined the club on a free transfer.
And although the arrival of a big name striker could leave him having to compete for his role in the first team, Giroud believes the club must bring in another name before the window closes in two weeks' time.
"In my opinion, it's necessary for the club to recruit another striker," Giroud told Le Parisien. "Obviously I think about it a little bit. It may have an influence, especially if it's a high profile signing.
"It's useless lamenting this though. I know what I have to do and what I'm capable of. I'm focusing on me and my work. The coach is counting on me, so I don't think too much."
The frustration of Arsenal fans boiled over this weekend after their opening day loss to Paul Lambert's Villa side, resulting in the Arsenal Supporters' Trust (AST) encouraging the club to cease contract negotiations with Wenger until the club's lack of spending in this transfer window has been addressed.
The club's publicised pursuit of Luis Suarez looks to be coming to an end with the Uruguayan looking increasingly likely to remain at Anfield for at least another season.
Fans also saw another summer target in Luiz Gustavo slip through their fingers last week, when the Brazilian completed his move to Wolfsburg, despite having professed his desire to play for Arsenal just days before.
The club found themselves in a similar position in June when they failed to bring Gonzalo Higuain to the Emirates. Despite appearing to be favourites to sign the Argentine international, complications over a transfer fee with Real Madrid saw a proposed move fall apart, allowing Serie A giants Napoli to move in for the 25-year-old.