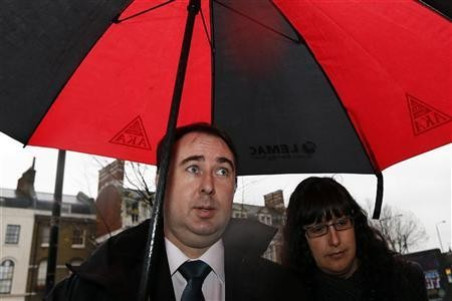 A man accused of throwing a bottle on to the race track before the start of the Men's 100m final at the Olympics also hurled abuse at eventual winner Usain Bolt, a court has heard.
Ashley Gill-Webb, 34, from South Milford, North Yorkshire, is accused of throwing a plastic beer bottle on to the track and shouting "Usain you are bad, you are an a******e" in front of an exclusive seating area despite not having a ticket.
Gill-Webb was arrested on 5 August following the incident at the 80,000-capacity Olympic Stadium in London and is accused of two public order offences. He denies both charges.
Gill-Webb is also accused by Dutch judo champion Edith Bosch of shouting "Bolt, I want you to lose".
Bosch, who won a bronze medal at the Games, said in a statement read out in Stratford magistrates' court that she had been "flabbergasted". Gill-Webb's behaviour was disrespectful, she said.
Student Farzin Mirshahi also said she had heard him yell: "Believe in Blake, no Usain", refering to the silver medal winner and fellow Jamaican Yohan Blake.
Gill-Webb denies having anything to do with the bottle throwing but admits he was "quite hyper" at the time.
Bolt went on to win the race in 9.63 seconds, the second fastest recorded time.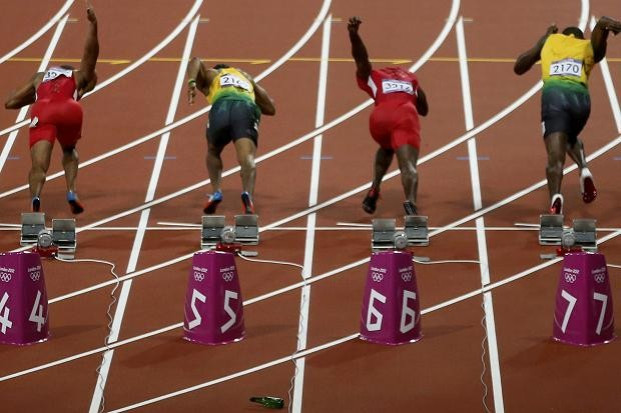 Prosecutor Neil King said: "In the stadium, along with the many thousands who should have been there legitimately and were watching the race in hushed anticipation, was also Mr Gill-Webb who it is now accepted was unwell at the time.
"He had somehow, without a ticket ever being found on him, made his way into very exclusive seats indeed.
"While there he hurled abuse towards the athletes in the final, particularly towards the eventual winner Usain Bolt.
"This bottle landed extremely close to the athletes and it's probably luck rather than Mr Gill-Webb's judgment that it did not do anything far more serious."
The court heard that Gill-Webb's behaviour after he arrested and taken to a police station had been "somewhat unusual".
Gill-Webb had also signed his statement with the name Alan Cummings, believed to be an attempt to suggest to police he was the famous Scottish actor.
The trial continues.