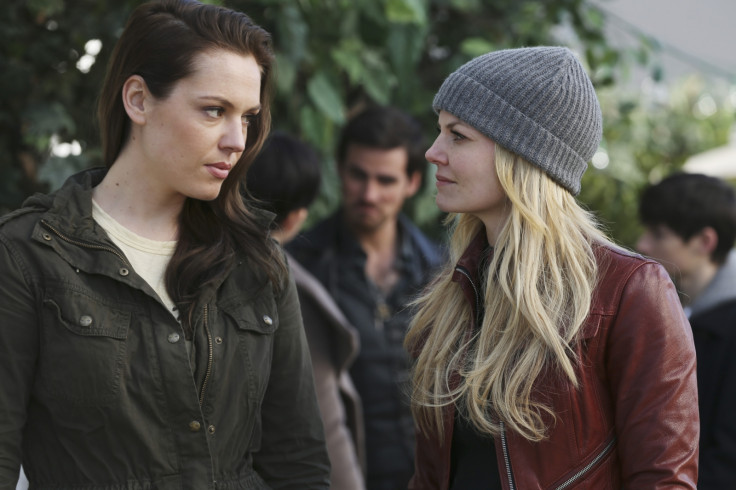 With just one episode to go for the epic two-hour finale of Once Upon A Time, the stakes are high for heroes and villains.
The last episode saw Emma reuniting with her childhood friend Lily, who is also Maleficent's daughter, but she isn't the innocent Lily that Emma knew. It turns out, just like Maleficent, Lily only has one thing in mind: revenge on Snow White and Prince Charming for her cursed life.
It was later revealed that the Sorcerer's Apprentice told Lily the entire history about her magical past after she and Emma parted ways. This makes for an epic showdown between Emma and Lily, as the latter tries to go after the saviour's family.
"You lay a hand on them, I end you!" Emma screams, and then Lily punches Emma.
"They deserve to be punished. There's only one way to stop them and you know it," Lily says before Emma has her at gunpoint.
Emma comes close to giving in to darkness by killing her friend, but Regina stops her.
"If you cross this line, the journey back isn't easy. Trust me, I know," Regina says. Emma doesn't shoot Lily, and they head to New York with Regina and plan to return to Storybrooke together.
Zelena is pregnant with Robin Hood's baby
Regina and Robin had a sweet reunion in New York, but it didn't last long.
Regina explains to Hood that Marian is not herself, that she is actually the Wicked Witch of the Wrst. Like a loyal husband, Robin does not believe her at first, and basically asks her to move on.
Even though Marian denies it, Zelena soon reveals herself, dropping the second bombshell of the night: she is pregnant with Robin's baby, so Hood refuses to leave her.
The promo of the next episode features Maleficent and Lily's reunion, but things will turn bad for Snow White.
Episode 21 is titled Mother, where Lily plots against the Charmings.
In a new promo video, Lily asks her mother, "How are we planning to get revenge from Snow White and Charming?"
The video ends with Lily transforming into a Dragon, and spitting fire on to Snow, as Charming and Malficent try to stop Lily.
Josh Dallas, who plays Charming, teased that there is bad stuff coming for Snow in the show's final episodes.
Dallas told Eonline: "There's big stuff going down, things that are going to shock the fans, things that a lot of the characters, particularly Snow and Charming, something that they don't want to happen."
Dallas also spilled on the quest to return Lily to her mother Maleficent, which will not go very well either. "Lily's not going to be too happy with Snow and Charming," he added.