Once Upon A Time returns from its long hiatus on 1 March at 8pm on ABC Network.
A new promo for episode 13, titled, Dark Side, hints at Emma, the saviour joining the Queens of Darkness.
In the voiceover promo, Rumplestiltskin talks of three ways to corrupt a hero, and for villains Maleficent, Ursula and Cruella to secure their own happy endings.
He continues, "They must find someone who can be molded into walking on the dark side." The promo then shows Emma (Jennifer Morrison) walking through the forest and standing with the villains and smirking, suggesting she has joined them.
According to official synopsis, "With Gold banished from town, the residents of Storybrooke attempt to resume their normal lives. Hook and Belle search for a way to release the fairies from the Sorcerer's hat, while Emma, Henry and Regina continue to look for clues that could lead them to the Author. But when a terrifying darkness descends on the town, Emma and Regina are forced to confront the true nature of evil. Meanwhile, in New York, Gold and Ursula enlist Cruella De Vil to join their cause."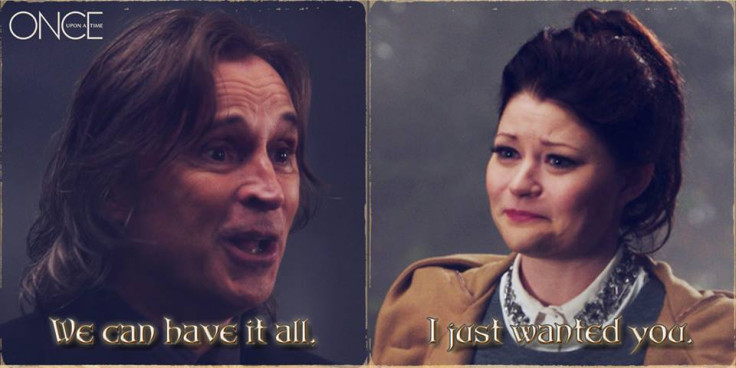 The mid season finale ended with Mr Gold/Rumplestiltskin (Robert Carlyle) being forced to leave Storybrooke by his wife Belle (Emilie de Ravin) after she learns of his evil plans.
We know that Rumple tries to make his way back to Storybrooke. Will Belle find it in her heart to forgive him?
"That's one of the things in the second half that we're exploring, which is forgiveness," executive producer Edward Kitsis told Entertainment Weekly.
"Can good people make a bad decision? Can bad people make a good decision? Can you come back from the bad decisions you made and how? What he did to Belle is really atrocious and that is not going to be solved with a mixed tape and flowers," he added.