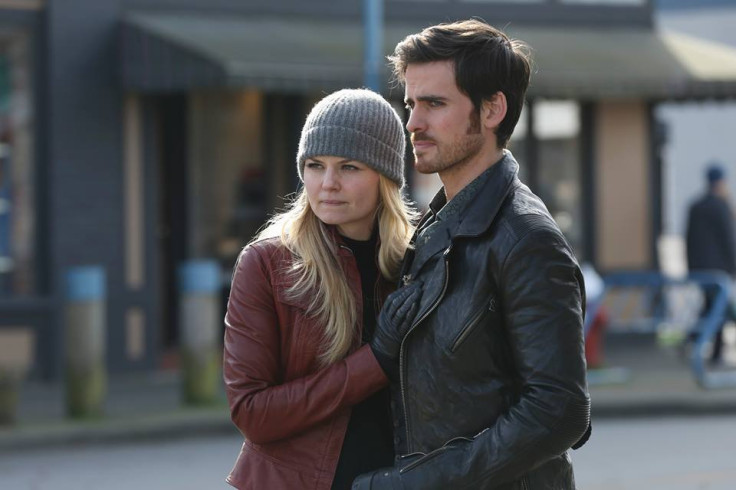 Once Upon A Time season 5 will find Emma giving up her duties as the Savior and slowly becoming The Dark One. But Emma's journey into the dark side will complicate her relationship with Hook.
Jennifer Morrison and Colin O'Donoghue who play Emma Swan and Hook, dished about Dark Swan and their characters' relationship in season 5 at the SDCC.
Morrison explained, "Emotionally, it's interesting because there's something really fun and free about Emma in the darkness. She's just free of the gravity of what other people think, the gravity of worrying about saving people."
"There's lightness in a sense in the darkness because she doesn't have to do the right thing. She doesn't have to try to be the stronger, better person all the time."
"She [Emma] is going to be fighting against the darkness," Morrison teased.
Colin O'Donoghue however teased that for Hook, "nothing is more important to him in this moment than Emma".
O'Donoghue added, "He has spent so long fighting the darkness and hating the Dark One, so it's very complicated for him. He's trying to figure out a way to bring her back."
Actor Robert Carlyle who played the Dark One before, explained that Emma will not become the Dark Swam immediately.
"Episode 1, season 5, she is not the Dark One," Carlyle said, adding "Maybe she becomes that, but at this point, she's trying to get rid of it. She's trying to get rid of the dark magic at the moment."

In the season 4 finale, the darkness within Rumple (Carlyle) is accidentally set free, and Emma decides to sacrifice herself to the darkness to save Regina, thereby becoming the Dark One.
Executive producer Adam Horowitz dished on the new powers of the Dark Swan and how they will differ from Rumplestiltskin's.
Horowitz told Entertainment Weekly , "How a Dark One manifests is specific to each person who takes on the mantle. Emma will have her own unique spin on what it means to be a Dark One."
Becoming the Dark One "allows you to have the freedom to have no inhibitions", Kitsis added, which could play a role in exactly how Emma uses her powers.
"We are going to be exploring love and what happens when you use it as a weapon and what are the things that it makes you do. In the past, we've said love is the most powerful magic of all. It makes you do many things you normally wouldn't think you would."
Once Upon A Time returns on 27 September at 8pm ET on ABC.