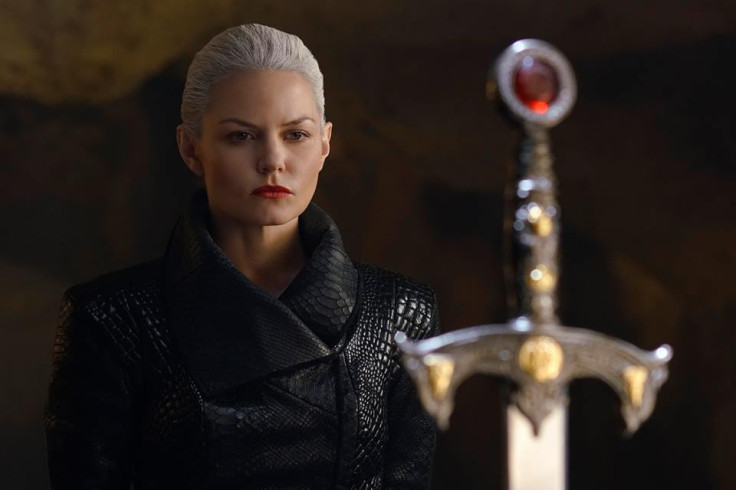 Merlin's back story about how he was blessed with magic and immortality will be highlighted in the upcoming chapter of Once Upon A Time season 5. Episode 5 is titled, Nimue, where Emma must summon the darkest force aka the Dark One to forge the ultimate weapon.
The official synopsis reads as follows:
Click here to watch it via live stream on ABC, or click here to watch it online on ABC's official website. The new promo shows Rumplestilskin telling Dark Emma about the Excalibur promise. He says, "The Excalibur's promise was born Aeons ago, its time for that promise to be fulfilled."
The voice over declares, "To forge the ultimate weapon, she [Emma] must summon the darkest force of all time", as Merlin and Emma begin their quest to find, the spark of mankind's original fire, which they will require to put the Excalibur together. We see Emma with the Dark One dagger as the name on the sword starts spinning, and a black masked figure appears before her.
Meanwhile, Elliot Knight has teased that the upcoming episode is going to be about Merlin's life. Knight told TV Insider, "I'm excited for people to see more of his story and how he came to be who he is. What is the story that's happened before they've found him in Camelot? You know how he ended up in the tree, but what happened before that? There are so many unanswered questions."
"Yes, I have been very excited for awhile for people to learn some answers to those, and this Sunday's episode is definitely going to be a very big one for answering people's questions," he added.
OUAT season 5 episode 7 airs this Sunday at 8pm EST on ABC Network.