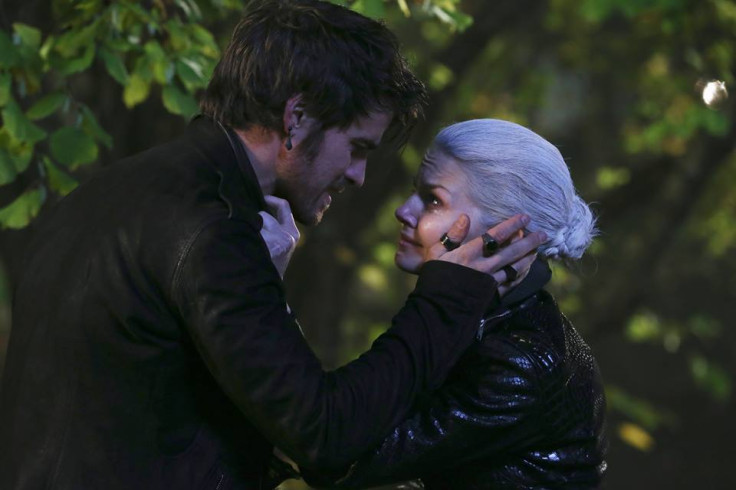 Once Upon A Time season 5 is on a winter hiatus and will return with its spring premiere on 6 March 2016. The episode is titled, Souls Of The Departed, which is the show's 100th instalment.
The winter finale titled, Swan Song found Hook sacrificing himself to take away all the Darkness, thereby bringing back Emma Swan. Also, Rumplestilskin betrayed everyone and has gone on to become the most powerful Dark One. By the end of the episode, Emma and the heroes decided to take a trip down underworld and bring Hook back.
Warning: Potential spoilers ahead.
Now, the second half of the season is likely to showcase a wicked comeback from Zelena (Rebecca Mader), a possible baby for Rumple and Belle, the return of many dead characters and the ABC series's first gay storyline.
In the latest promo of episode 12, Emma and her team can be seen in the underworld, which looks similar to Storybrooke. Co-creators Adam Horowitz and Eddy Kitsis have teased what to expect in the second half of the season in an interview with The Hollywood Reporter.
Speaking about the similarities between Storybrooke and the underworld, Horowitz said: "What the underworld is and why it looks the way it does is a part of our storytelling coming up. So while we don't want to spoil it, we can say that there is a very specific reason why it looks like Storybrooke, and it has to do with some of the folks we're gonna meet down there."
However, the creators have denied that underworld is not hell exactly. Horowitz said, "It's not hell. The underworld isn't hell — it is a place between. It's the place for people with unfinished business, so it's not about good or evil."
While, Kitsis added, "The second half is a lot about them getting closure on their pasts and how the past comes to haunt you." Meanwhile, Emma will do everything in her power to save Hook. "She finally lowered that wall and let Hook in, so she doesn't want to lose another person she loves," Kitsis explained and said, "So echoing her father's line, 'I will always find you,' and I think come hell or high water, she's gonna try."
Horowitz, further teased that the trip to the underworld will not just be about Swan bringing back Hook. "It's going to be a bunch of things. It's not just about finding Hook, it's about what happens when Emma and all of our characters enter this realm and have to face things both from their past and present. It will hopefully be an exploration of our characters and how they react to facing things you never thought you were going to face," he said.
Kitsis also teased that there could be a baby for Rumple and Belle as actress Emilie de Ravin (Belle) is pregnant. He stated, "I would say it certainly looked like they re-consummated their marriage, so we'll just have to wait and see, but I would say you're definitely on the right clue trail."
Moreover, many dead characters from OUAT's previous season will return for the show's 100th episode. According to the website, Prince Henry (Tony Perez), Cora (Barbara Hershey), Sidney Glass (Giancarlo Esposito), The Blind Witch (Emma Caulfield) and Peter Pan (Robbie Kay) will be back, while Cruella de Vil (Victoria Smurfit) and Milah (Rachel Shelley) will appear later in the season.
Mulan (Jamie Chung), Ruby (Meghan Ory), Arthur, Merida, and Guinevere will return on the show, and Zelena will be part of a major plot in second half of season 5.