A one-armed 87-year-old pensioner who shot his 81-year-old wife dead at a care home in Essex has been sentenced to six years in a psychiatric institution. Ronald King claimed he shot wife Rita, who had dementia, as a "mercy killing" and admitted manslaughter on the grounds of diminished responsibility.
Ronald and Rita had been married for 50 years and lived at De La Mer House in Walton-on-the-Naze, when the shooting took place in December 2015. On Wednesday (24 August), Chelmsford Crown Court heard how Ronald walked into the living room of the care home and shot his wife through the eye, killing her instantly. Two other people reportedly witnessed the attack.
King then kissed his wife on the forehead and turned the 1934 Enfield revolver on himself telling staff: "I'm dying anyway" but was physically unable to press the trigger. The gun was wrestled away by staff members.
Retired insurance broker King claimed he killed his wife in an act of mercy as her condition was deteriorating. However sentencing Judge Charles Gratwicke told him: "You and your wife have been a devoted couple and there is no doubt that as she started to exhibit the first signs of dementia you cared for her until her dementia and your ill health meant you could no longer do so.
"You did that [the killing] under the pretence you had shot her to prevent her suffering anymore, that she had had enough, and you were dying anyway. As you well know there is no evidence that she was in pain of suffering any more than anyone else who had succumbed to dementia, which is a dreadful condition."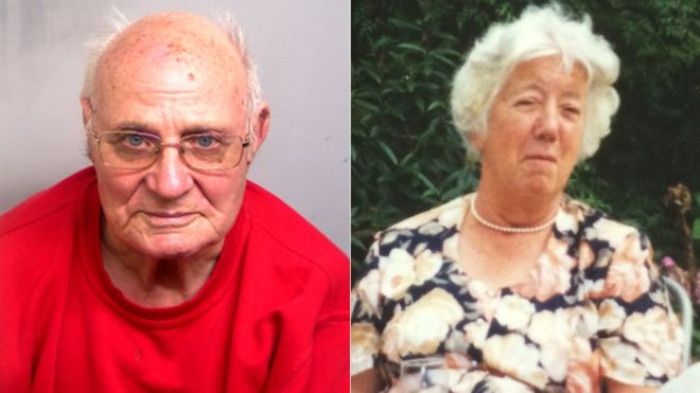 Scans later revealed that Ronald King was suffering from dementia and paraphrenia when he shot his wife. According to the BBC he had also planned to kill his 92-year-old sister at the home and was also found guilty of possession of firearms and ammunition. He was sent to a secure mental hospital in Northampton for six years.